The certified nurse aide classes in Estero, Florida listed on this page are the courses that you can enroll in as of the moment. For more information about signing up for instruction in a state licensed facility, please call the number provided below.
Estero High School Nursing Assistant Course
21900 River Ranch Road,
Estero, Florida 33928
(239) 947-9400
Passing the license exams is a necessary step in becoming a certified nursing assistant in Florida. You must get a license because the state does not allow its CNAs to work in any healthcare setting without a certification/license. You can only take the exams if you have completed the different prerequisites like the completion of a training program and pass the federal and state background checks for criminal records. Other requirements for the exams include submitting your transcript of records, fingerprint cards, ID photo, passport pictures, as well as payment for the different exams.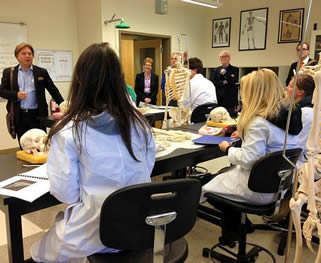 The first part of the license exams is the written exam. It is composed of 60 multiple-choice questions.  You will be given 90 minutes to answer all of them. Out of all the questions, there will only 50 items that will be score. The 10 questions that are placed there are pretest questions. All the items will focus on different domains such as the roles of the nurse, the promotion of safety, and the promotion of function and health of the resident.
For skills evaluation, you will need to perform 5 nursing procedures in a given scenario. These procedures will be randomly selected by a computer and will be shown to you before you start your exam.  You will also be shown a set of checkpoints for each procedure that you will do. These checkpoints will serve as basis for the nurse aide evaluator to rate if you pass or fail. To pass this exam, you have to do all the procedures satisfactorily.
This is a census-designated place that is in Lee County. It is a part of the Cape Coral–Fort Myers Metropolitan Statistical Area. Estero is also known as a College Town. According to the census of 2010, their total population was around 18,176 people. This town has a total area of approximately 62.58 sq miles, where almost all of it is land. Its population density is 290.44/sq mile.
Health care centers that you can find in the area include DME Shoppe-Ft Myers Inc., Urgent Care Center of SW Florida, All Canadian Drug Services, Fifer Heligman Gomez Markovich Hood Follweiler & Kleiman, Medical Department Store, Florida Eye Health, United Nursing Services, Urgent Care Center Of SW Florida, Medical Xpress Inc., and many more. photo attribution: aaet