The nursing assistant classes in Enid, Oklahoma that are shown on this page are the entire amount of registry authorized training programs that are available for you to enroll in. The Oklahoma State Department of Health verifies instruction courses. Call a facility to learn more about their status.
Highland Park Manor
1410 West Willow Rd.,
Enid, OK 73702
(580) 234-2526
(LTC training classes are also being offered)
United Methodist Home of Enid
301 South Oakwood Rd.,
Enid, OK 73703
(580) 237-7625
Liberty of Oklahoma
2501 NE Delaware,
Enid, OK 73701
(580) 213-2700
(Offers DDA training classes)
Autry Technology
1201 West Willow Rd.,
Enid, OK 73703
(580) 242-2750
http://www.autrytech.edu/
(Multiple classes are being offered here)
Northern Oklahoma Resource
2600 East Willow Rd.,
Enid, OK 73701
(580) 213-2700
http://www.ok.gov/health/
Becoming a nursing assistant, especially in the state of Oklahoma is becoming to be one of the best career options that are available right now. The demand for this profession is continuously on the rise not only in this state, but throughout the country. This increase in demand is expected by many experts to continue to increase up to 2016.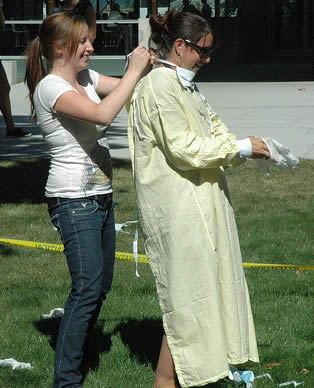 The process of becoming a nursing assistant is easy once you know what to do. First of all, you will need to enroll in a state-approved CNA training program.  The state requires you to complete a minimum of 75 hours of training in a classroom for lectures and an additional of 16 hours of training in a licensed nursing facility. The basic courses for a CNA will cover you with the basic nursing skills, emergency procedures, infection control, personal care, mental health, rehabilitation, medical terminologies, patient's rights and independence, and the human anatomy.
After you complete your training, will then become eligible to apply for the competency evaluation exams in order to get your license and gain entry into the Nurse Aide Registry. If you are a nursing student or a nursing graduate, you will no longer be required to take additional training in order to apply for the exam. Nursing graduate will be required to provide proof of their training and education such as a copy of their diploma or transcript of records.
The competency examination in Oklahoma is given by the state's Department of Health. As stated by federal law, the evaluation exams will always be composed of two parts, a written/oral exam and a clinical skills test. To get your license, you must be able to pass all the tests.
Only those who are on the Registry and have an active status there are allowed to work in a long-term care facility. Another way of gaining entry into the Registry is by applying for reciprocity, which is offered to CNA's that are registered in a different state.
A CNA status or license will remain the same for a maximum of 2 years. In order to continue your eligibility to work as a nursing assistant, you will have to renew it before it expires. To be qualified for renewal, you will have to work for at least 8 hours within that time as a paid license health personnel.
This city is the county seat of Garfield County. It was named after a character in Alred, Lord Tennyson's Idylls of the King. It is also known as the "Wheat Capital of the United States" and "Purple Martin Capital of Oklahoma". With a total population of 49,379 residents during the 2010 census, this makes them the 9th biggest city in the state of of Oklahoma. The city has a total area of approximately 74.1 sq miles, where almost all of it is land. The city has a population density of 648.2/sq mile.
Health care providers that you can find in the area include Integris Bass Behavioral Health, Carter Healthcare, Urgent Care Plus, Dialysis Center Fresenius Medical Care, Family Physician Referral, Solutions for Life, Enid Regional Family Practice, Northwest Oklahoma Orthopedic Clinic Inc., Family Physicians of The Plains, and many more. photo attribution: ufv