The health care facility schools in Dundalk, Maryland that are shown on this page offer the most up to date certified nursing assistant training that are approved by the state of Maryland. If you have inquiries about their program requirements, cost of instruction, class schedules or training curriculum, just call the phone number below.
Genesis Eldercare-Heritage Center
7232 German Hill Road
Dundalk, MD  21222
(410) 282-6310
http://www.genesishcc.com/HeritageMD
To be allowed to work as a certified nurse aide in the state of Maryland you will need to follow several steps. The first of them being, enrolling in a instruction course that is authorized by the MD Board of Nursing and meets hourly and curriculum requirements. Currently classes must offer at the least 100 hours of training. During the training program you will learn the basic skills that are required for the job.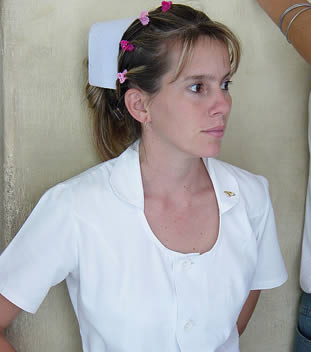 After completion of the class you will need to submit an application, a certification fee and consent to a Criminal History Record Check to be able to take the license test. The certification exams are given by the Maryland Geriatric Nursing Assistant Testing Service at the Susquehanna Red Cross testing location. You can contact the MGNAT with any questions by calling 866-257-6470.
Becoming a Certified Medicine Aide or CMA is one of the advance certifications that you are able to apply for once after receiving your initial license. The requirements to become one are different from the other advance certifications such as Home Health Aides. To receive this certification, you will need to finish a 60 hour training program that is approved by the Board of Nursing. To be able to enroll in one of these programs, you must have at least 2 years of experience as a CNA or at least a year of experience as a GNA.
Once you are able to complete your training, the training facility will contact the Board and the certification will be added to your name on the registry. You should refrain from practicing as a nurse aide until your name has appeared on the Boards web page. CMA certifications will expire on the same day your nurse aide or GMA licenses does. For your initial certification, this may be less than two years since it will take time to become a medicine aide. Upon initial certification, the board will not require any additional fees from you.
This is an unincorporated community and a census-designated place that can be found in Baltimore County. It is the largest unincorporated community that is in the state of Maryland. Founded in 1856, the town was named after Dundalk in Ireland. The area of Dundalk was originally explored by John Smith back in 1608. According to the census of 2010, their total population was around 63,597 people. It has a total area of about 17.4 sq miles and a population density of 3,700/sq mile.
Health care providers that you can avail in the community include STD Test Express, On Our Own Inc., Prologue Inc., Maryland Healthcare Clinic, Key Point Health Services Dundalk Clinic, Genesis, Multi-Specialty Health Care, DaVita Dialysis Center, National Pike Health Center Dundalk, and many more. photo attribution: adam_jones