The state tested nurse aide (STNA) classes that can be found in Dayton, Ohio are listed in detail below. The list contains all the training that meets the approval of the OH Department of Health. Call a representative of a school to get further enrollment details.
Fortis College
555 E Alex Bell Rd, Dayton, OH 45459
(937) 433-3410
http://www.fortis.edu/
Ohio Medical Career Center/ The Job Center
1133 S. Edwin C. Moses Blvd, Suite 110, Dayton, OH 45417
(937) 567-8880
http://ohiomcc.com/
Denmar Career Based Training
4699 Salem Avenue, Dayton, OH 45416
(931) 277-4730
Fax: (937) 660-9388
http://www.denmarcareerbasedtraining.com/
Sinclair Community College
444, West Third Street, Dayton, OH 45402
(800) 315-3000
http://www.sinclair.edu/
The best way to start a career in the medical field today is to become a nurse aide. A nurse aide/nursing aide/nursing assistant is an individual who gets paid to perform routine and simple nursing tasks to the patients while under the supervision of a nurse or a member of the medical staff. Since a nursing aide mainly works with a nurse, it is the nurses who are the ones who will delegate the tasks that the nursing aide should do. These tasks may include taking the vital signs, assisting in eating, bathing, dressing, and other daily activities. According to the Bureau of Labor Statistics, the demand for this job is expected to still increase through 2016.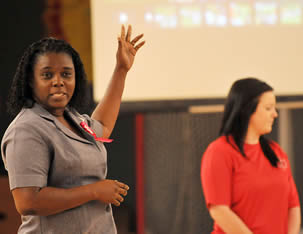 This is a very practical career choice since the training is well quick and is well compensated once you find work. According to studies, the mean hourly wage that a nursing assistant makes is $11.46, making their annual salary around $20,200 to $28,700.Training programs for this profession are offered by different institutions and an aspiring nursing aide may already start working for a licensed nursing facility while under training. If you are able to find work within 1 year from your certification, your employer will reimburse you for your expenses if you qualify.
Training programs in Ohio last only for up to 2 months. To complete the program, you must meet the required 75 hours of training that was mandated by the Federal Law. Your training will consist of 59 hours spent for practical training at an actual clinical setting, and 16 hours doing classroom instructions. If you are unable to complete the 75 hours because you missed some classes, you are given 60 days to complete it.
You are only considered as a full-fledged nursing aide if your name is on the Nurse Aide Registry and has an active status. To get your name entered, you will have to pass the competency evaluation exam after completing your training. For CNAs from other states who wish to work in Ohio, they may apply directly to the Registry through reciprocity.
You can contact the Ohio Department of Health Nurse Aide Registry for further details about qualification required to gain access to a license at:
Physical address: 246 N. High Street, Columbus, OH 43215
Telephone: (800) 582-5908 (in-state) or (614) 752-9500 (out-of-state)
Fax: (614) 564-2461
Email contact: NAR@odh.ohio.gov
The City of Dayton is considered as the 6th biggest city in the state of Ohio and ranks 117th in the entire country. Nicknamed as "The Gem City", Dayton also serves as the county seat of Montgomery County. As of the census that was done in 2011, the total population of the city had grown to 142,148 people. Dayton has a total city area of 56.5 square miles, which only 0.85 square miles of it is water.
Health is a very important field in this city. Out of the 10 biggest employers of the city, 4 of those are involved in healthcare. These major employers are Premier Health Partners, Grandview Hospital, Dayton VA Medical Center, and the Dayton Children's Medical Center. Other healthcare providers include Good Samaritan North Health Center, DOC Pain Management Center, Huber Health Urgent Care, Miami Valley Women's Center, and Southview Medical Center. photo attribution: ufv