The nurse aide programs that are currently open for enrollment in the tow of Damariscotta, Maine are listed on this page. The course shown here have been recognized & approved by the ME Licensing and Regulatory Services and meet the qualifications of the registry.
Damariscotta (Union #74) Adult Education
767 Main Street, Suite 1-A, Damariscotta, ME 04543 – (207) 563-2811
http://clc.maineadulted.org/courses/
The completion of a CNA training program is one of the most important requirements that you will need to become a nursing assistant. Training is required to meet state standards of at least 180 hours. This includes a minimum of 20 hours of laboratory work, 90 hours of classroom study, and 70 hours of clinical skills practicing. In addition you are required to be at least 16 years old, have finished at least the 9th grade, can read and write English and have passed a criminal background check to qualify. By completing a state-approved program, you will become eligible to apply for the license exams. Aside from that, you will also be allowed to work in a nursing facility as a nursing assistant for up to 4 months.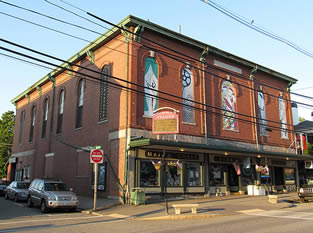 The license exams for this state are composed of a skills evaluation and a written exam. It is important that you are able to pass the exams because it is the only way for you to get your name entered in the state's Nurse Aide Registry. Only those whose names are on the registry will be the only ones who are able to work in health care centers. Nursing Assistants from other states are also allowed to work in Maine. All they have to do is to apply for reciprocity. When they apply, they will need to have a valid license as well as a good relationship with their state. You will also be required to show documents that prove your training and experience.
This is a town that is located in Lincoln County. The name of this city is an Indian name that means "river of little fish". According to the last census, their total population had reached up to 2,041 people. It has a population density of 164.4/sq mile. The total area of this town is approximately 14.6 sq miles. 2.2 square miles of the total are is water.
The Waltz Pharmacy is one of the notable businesses in the city. Health care facilities that are located in this town include Lincoln Medical Partners, Miles Memorial Hospital – Cardiac Rehab Dam, Lincoln County Healthcare, Take Care Clinic at select Walgreens, Full Circle Family Medicine, Acupuncture EWA, Fresenius Medical Care Damariscotta Dialysis, Traditional Acupuncture, and many more. photo attribution: dougtone