The nurse aide classes being conducted in Connersville, Indiana are displayed below. These are the most recent  state approved programs available in the city. For more information about how to enroll, please call the number below and talk with a school representative.
Heritage House Rehabilitation and Health Care Center
281 South Country Road 200 E,
Connersville, IN 47331
(765) 825-2148
http://www.ascseniorcare.com/heritage-house-rehabilitation–healthcare-center/
Whitewater Technical Career Center
1300 Spartan Drive,
Connersville, IN 47331
(765) 825-0521
http://fayette.k12.in.us/wtcc/
There are several requirements that must be met before you can become a eligible to work as a certified nurse aide. The most important of them are the completion of a CNA training program that is approved by the state and passing the background checks. These background checks are done at both federal and state levels. You will not be able to take the license exams if you do not comply with these two. Aside from enrolling in a nursing assistant training program, you can also enroll in other nursing courses to become eligible.  Examples of the benefits of choosing to enroll in a nursing assistant program is that it is less costly compared to others and it also does not take that much time. Many of the training programs that are being offered in Indiana can be completed within 6 months of training. State-certified programs are required by the state to offer their students at least 105 hours of training. These hours will be divided into 30 hours of classroom lectures and 75 hours of clinical experience.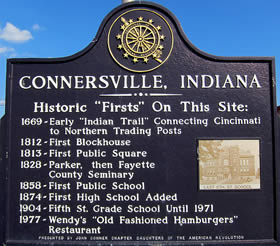 After you complete your training, you can then request from your training center the Nursing Assistant Final Examination Application form. Once you fill that up, you have to send it to the board along with the other necessary documents. You will then wait for your approval before you pay for the exams at Ivy Tech Community College. The exams will be composed of an oral, a written, and a practical part. Once you pass the license exams, you will then receive your certification and license, which you will need to renew every two years.
Connersville is the county seat of Fayette County. It was named after John Conner, who was responsible for laying out the town back in 1813. This town once became known as "Little Detroit" because of the automobile industry that is located there. According to the last census, their total population was around 15,411 people. It has a population density of 1,896/sq mile. The city has a total area of approximately 7.76 sq miles, where almost all of it is land.
The health care providers that are continuously serving this city include Lincoln Center Healthcare, Creative Counseling Service, Whitewater Valley Rehabilitation, Frhs Physician Referral Line, Miracle Family Chiropractic, Frhs Whitewater Valley Care Pavilion, and Centerstone. photo credit: hystericalmark