The training offered in Vancouver, Washington to become a CNA is listed on this page. Programs are required before one can take the exams and will task the student with performing primary medical skills used during the job. In addition applicants will learn health care theory and perform lab work.
Clark College
1800 East Mcloughlin Blvd.,
Vancouver, WA 98663
(360) 992-2743
Clark County Skills Center
12200 NE 28th Street,
Vancouver, WA 98682
(360) 604-1050
CNA Training School of Nursing
5317 NE Street St. Johns Road,
Vancouver, WA 98661
(360) 546-0098
Northwest NAC Training
11606 NE 66th Street, Suite 103,
Vancouver, WA 98604
(360) 882-0101
What makes becoming a nursing aide in Washington a great way to start a career in the field of healthcare? For one thing, you don't need to spend years training to become one. You can start working as a nursing assistant in a matter of a few months. Another great reason is that the demand for nursing aides in this state is currently very high. You won't have any trouble looking for work once you become a certified nursing aide or CNA.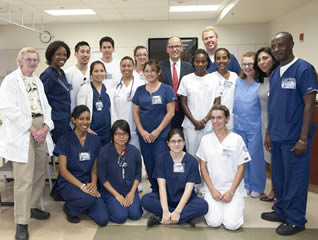 The first thing that you'll need to do to become one is to enroll in a state-approved training program. It is important that you learn the proper skills to meet the individual needs of each patient. A program will also prepare you for the different situations that you might encounter once you work in health care.
Approved training programs in Washington consist of 35 hours of lectures and 50 hours of supervised training in the clinical area. There are also numerous programs within the state that offer more than the required 85 hours of training. These programs can be found being offered by hospitals, nursing homes, community colleges, private training facilities, and many others. Depending on the program you choose, it can take you 8 to 24 weeks to complete your training.
Once you are through with your training, you'll then be allowed to apply for the NNAAP exam. This exam isn't just about a written test. You'll also be required to show your competence of the different nursing skills. It consists of a written/oral test and a skills evaluation exam. You have to pass both tests to get certified.
So, what's next after training? If you want to improve your knowledge and skills as a nursing aide, there are several advance training programs that you can enroll in. You could also get other certifications that go great with a Nursing Aide Certificate like a Medication Aide Certification. Becoming a CMA will allow you to provide certain medications to patients while still under the supervision of a registered nurse.
If you want to aim higher, then you might want to think about pursuing a higher degree. The education, training, and experiences that you get as a nursing aide can be a great stepping stone if you ever want to become a licensed nurse, LPN, or even a physician. You can follow this link – http://www.doh.wa.gov/LicensesPermitsandCertificates/ProfessionsNewReneworUpdate/HealthcareProfessionalCredentialingRequirement.aspx, and take a look at the different healthcare professions that one can take up in Washington.
This city is a part of and is the county seat of Clark County. It is a part of the Portland-Vancouver metropolitan area. Vancouver can be found on the northern back of the Columbia River. It is considered as the 4th largest city in the state. According to the census of 2010, their total population had reached up to a total of 161,791 people. It has a total area of approximately 46.1 sq miles and a population density of 3,659/sq mile.
The Southwest Washington Medical Center and the Kaiser Permanente are two of the biggest employers in the city. Other health care centers that you can avail in the city include Good Health Naturally, PLLC, Fisher's Landing Urgent and Family Care, Evergreen Pediatric Clinic, Advanced Chiropractic Centre, Family Care & Urgent Medical Clinics, and Urgent Medical Center. photo attribution: usdol