On this page are the CNA training programs that are located in Louisville, Kentucky. Included in the list are colleges, health care facilities, vocational centers, and private training centers that are approved by the state to offer certified nurse aide instruction.
Jefferson Community & Technical College
Workforce Solutions Office
Broadway Blvd., Suite 203
101 W. Broadway
Louisville, KY 40202
Phone: (502) 213-4297
American Red Cross
510 E. Chestnut Street
P.O. Box 1675
Louisville, KY 40202
(502) 589-4450
Georgetown Manor
900 Gagel Ave.
Louisville, KY 40216
(502) 368-5827
Fax: (502) 361-0515
Louisville is a wonderful place to train and become a certified nurse aide. This is the largest city in the Commonwealth of Kentucky and the state's only 1st-class city. Located just before the Falls of Ohio, this city is home to about 750,828 people. Established back in 1778 by George Rogers Clack; this city now has a total area of 399 square miles. Today, Louisville is proudly known as the location of the Kentucky Derby.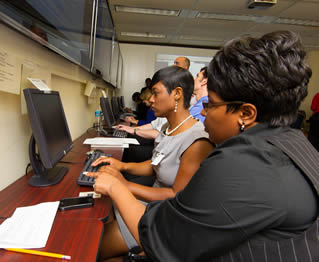 High populations mean a high demand for healthcare providers, especially entry-level professionals. Among the different health care providers, nursing aides are very in demand. If you wish to start a wonderful career in the field of health without spending too much time and money, then becoming a nurse aide is the perfect solution.
What is a Nurse Aide?
A nurse aide can be defined as an individual who has successfully completed the nurse aide training and competency evaluation program. Nurse aides work under the direct supervision of licensed nurses and licensed practical nurses; and help provide basic nursing care to patients who are in different health care settings.
Becoming a CNA
To begin your journey towards becoming a State Registered Nurse Aide or SNRA in Kentucky, you need to enroll in a state-approved training program. Basic training courses consist of seventy-five (75) hours of lectures and sixteen (16) hours of supervised clinical training. You can find suitable training programs offered by various training facilities across the state. Depending on the course you choose to enroll in, it can take around 6 to 12 weeks to complete your training.
Once you are through with your training, your next step is to apply for the competency exam. This exam will test both your knowledge and skills as an aspiring nurse aide. You will be given 3 attempts to pass within one year after completing your training. If you fail to pass within the number of attempts, you will be required to undergo retraining. Only candidates who are able to pass both tests will gain entry into the Nurse Aide Registry.
Tips for the Knowledge Test
– Rest up fully before the test date
– Make sure to completely understand the exam directions
– Consider each question carefully
– However, do not try to over think the questions
– Use the process of elimination to come up with the correct answer
– If you have extra time go back and review your answers
Tips for the Skills Test
– Take time to study each of the critical steps for every nursing procedure
– Always keep the patient comfortable, and safe throughout the procedure
– The sequence of steps is not considered critical unless it interferes with patient safety
– If by chance you miss a step ask the evaluator if you can go back and perform the step you missed
You can get more information and tips regarding the license exams by downloading a copy of the Kentucky Nurse Aide Candidate Handbook via http://www.kbn.ky.gov. photo attribution: usdol