The CNA Classes in Tulsa, Oklahoma that are open for enrollment are all listed here. If you know of other listings that are available, send them to us and we will add them to the page. To receive the latest class sign-up details please call a school to speak with a course administrator.
Gold Medallion Health Care
2154 South 85th E Ave.,
Tulsa, OK 74129
(918) 622-4747
Tulsa Community College
909 South Boston Ave.,
Tulsa, OK 74119
(918) 595-7282
Tulsa Job Corps Center N
1133 North Lewis Ave.,
Tulsa, OK 74110
(918) 585-9111
(Also offers other courses)
Tulsa Technology Center
3420 South Memorial Dr.,
Tulsa, OK 74145
(918) 828-5000
Tulsa Technology Medication Aide Course
3850 North Peoria,
Tulsa, OK 74106
(918) 828-2000
Life Senior Services
5950 East 31st Street,
Tulsa, OK 74135
(918) 664-9000
OSU Health Training Center
1601 South Main Street,
Tulsa, OK 74119
(918) 592-1991
Woodland Park Home Inc.
5707 South Memorial Dr.,
Tulsa, OK 74145
(918) 252-2521
To work as a CNA in Oklahoma, you must first acquire a nursing assistant certification. This can be done by passing the nursing assistant competency evaluation examination, which is offered by Headmaster. To be able to take this exam, you must first complete the necessary training. That is why your first step is to look for a state-certified NA training course.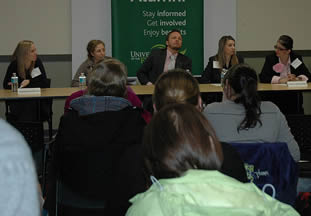 Because of the high demand for this profession, training programs are found in almost all local community colleges. There are also selected nursing homes and hospitals that offer the training. Although each training facility has its own set of requirements for enrollment, the state does require them to accept only those who are at least 18 years old; possess a high school diploma or a GED; be sound of mind and physically capable of taking care of patients; and have a clean record. Having a clean record is important so you can pass the state and federal background checks to see if you have any criminal offenses.
Nurse aide training programs are required to offer at least 75 hours of classroom lectures and 16 hour of on-the-job training. Their instructors must be registered nurses with sufficient working experience and some background experience with either training adults or supervising nursing assistant students. When enrolled, you will be trained in different nursing concepts like infection control, therapeutic communication techniques, personal care, safety, respecting the patient's rights, and promoting their independence.
If you complete a program, you can then try to apply for the state exams. You can get the application forms from your instructor or download a copy from the Headmaster official website at www.hdmaster.com. To get into the NAR, you must pass the knowledge test and the clinical skills test. During the day of your exam, please make sure to come at least 30 minutes before the actual time to avoid being late. Late arrivals will no longer be allowed to take the portion that they are late for.  Once you pass the exams, you will then be given your nursing assistant license and your name will be applied to the state registry.
If you wish to further your skills and knowledge as a nursing assistant, not to mention your career, you can enroll in advance courses. You can also achieve to become a CNA II or III. To qualify for CNA II training, you must maintain a clean record and work for at least 6 months as a nursing assistant in the same nursing facility.
Because of the contract that the OSDH made with the state Department of Career and Technology Education and the Tulsa Community College, training for CNA II is free for those who meet the requirement. To find out more please follow this link: http://www.ok.gov/health2/documents/LTC%20CNA%20II%20Career%20Ladder%20Brochure%20Rev%202012-03.pdf.
This city is the county seat of Tulsa County. It is the 2nd biggest city in the state, just after Oklahoma City. The community was originally known as "Tallasi", which means "old town". Tulsa is also known as the "Oil Capital of the World" and Tulsey Town. It is a primary city of the Tulsa Metropolitan Area. With a total population of 391,906 during the last census, they rank as the 46th largest city in the county. Tulsa has a total area of 186.8 sq miles, where 4.2 square miles of it is water, and has a population density of 2,132.6/sq mile.
Health care centers that are available in the city include Tulsa Foot & Ankle Clinic, Healthcare Strategic Support, One Source Occupational Medicine, Ou Community Health East Central Village, Southcrest Medical Group Accounting Office, Housecalls Home Health Services, Gentiva Health Services, Utica Park Clinic, Healthcare Research Consultants, and Tulsa Eye Clinic. photo attribution: ufv