The CNA training classes in Lincoln, Nebraska that are shown here offer the most recent and up to date nurse aide training programs that you can enroll in. Call one of the facilities on this page to get the latest information about class schedules, enrollment dates, program curriculum, and tuition rates.
Southeast Community College Continuing Education Center
301 South 68th Street Place,
Lincoln, NE 68510
(402) 471-3333
https://www.southeast.edu/ContinuingEducationLocation/
Bryan College of Health Sciences
5035 Everett Street,
Lincoln, NE 68506
(402) 481-3801
http://www.bryanhealth.com/collegeofhealthsciences
To be a nursing assistant, you should first enroll in a CNA training course that is approved by the state of Nebraska's Department of Health. The classes must offer 75 hours of instruction to qualify. While in the program, you will learn the skills that you will need to take care of the patients and their families. Nursing assistants usually work in nursing facilities like nursing homes. Once you have finished your training requirements you can apply to take the comprehensive certification exams.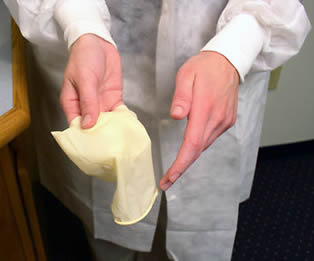 If you want to work in Nebraska as a nursing aide, you must enter your name on the state's Nurse Aide Registry. It will only be entered there if you were able to pass the license exams after completing a state-approved training program. The license exams are composed of both a written and a skills evaluation exam.
The written exam is composed of 50 multiple-choice questions. In order to pass the written exams, you must get at least a 70% score. It can take for up to 3 weeks to process and get your results. Each individual is given 3 chances to pass the exams. After failing the third time, the individual must then retake another school course.
For the skills demonstration exam, there will be 6 random nursing skills that will be asked to be performed. In order to pass this test, you must perform all nursing skills at least 70% satisfactorily. Like the written exams, a person is allowed to take the exam up to 3 times. A different set of skills will be given for each retake.
To learn more about the current requirements to become certified you can speak to a representative of the NE Department of Health & Human Services by calling (402) 471-0537. If you want to verify your license status you can call (402) 471-0537.
Lincoln is the state capital of Nebraska. It is also the county seat of Lancaster County. With a total population of 258,379 during the 2010 census, they are the 2nd most populous city in the state. Founded in 1856, it was originally known as Lancaster. Its current name was taken from President Abraham Lincoln. Now, the city is sometimes called as "Star City". Lincoln has a total area of about 75.4 sq miles, where only 0.7 square miles of it is water. It has a population density of 3,022.2/sq mile.
Health care providers that are serving this city and its people include Turner Chiropractic, Urology, Ear Nose & Throat Allergy, Women's Clinic Of Lincoln, Green Chiropractic Center, Heartland Speech & Language, Children's Dental Clinic, Urgent Care Clinic Of Lincoln, First Step Recovery & Wellness Center, Associates In Counseling,  Omni Behavioral Health, Gentiva Health Services – The Complete Home Care, and many more.