Education centers offering nursing assistant classes in Coeur d'Alene, Idaho are shown on this page. For details on how you can get started in a certification training program you should call the phone number and speak to a course administrator.
North Idaho College
1000 West Garden Ave.,
Coeur d'Alene, ID 83814
(208) 769-3300
Website: http://www.nic.edu/
Taking the license exams is the only way you can get a license and become a CNA. There are several requirements that you must comply with first as well as several means to achieve some of them. The first task is to enroll in a training program to become eligible to apply for the exams after training. You have the option to enroll in a college/vocational class or a nursing course. Those who enrolled in nursing courses and have covered the fundamentals of nursing as well as the needed amount of clinical duties are welcome to apply.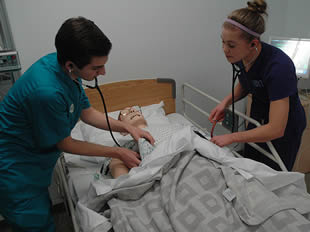 The advantage of enrolling in a nursing assistant training program is that it does not cost as much as other courses. When selecting for a program to enroll in, you should only choose programs that are approved by the state. It is important that the nursing aide students that enroll in the programs have a total of 120 hours, which is composed of 80 hours of classroom instructions and 40 hours of clinical rotations.
When applying for the license exams, you must send in your completed application form, which can be downloaded at https://www.prometric.com/en-us/clients/Nurseaide/Pages/ID.aspx, along with the needed documents. You will be asked to provide ID photo, fingerprint cards, TB and immunization reports, passport sized pictures, and the results for the federal and state background checks. You will not be able to proceed and take the exams if you have records that disqualify you to become a nursing aide. For more information, you can call this number (888) 843-2341. The examination will be made up of written, oral, and skills test parts.
This city is the county seat of Kootenai County. It is also the largest city of the county. This city is a primary city of the Coeur d'Alene Metropolitan Statistical Area. You can find this city a few miles east of Spokane, Washington. It is also situated near Lake Coeur d'Alene, thus it is known as Lake City. According to the census of 2010, their total population was around 44,137 people. It has a population density of 2,628.9/sq mile and has a total area of approximately 13.9 sq miles.
The Kootenai Health is both the largest and the primary medical centers that is serving this city. Other health care centers that you can find in the area include After Hours Urgent Care, Inland, Cardiology Associates, Aby Skincare, Pilgrim's Wellness Center, North Idaho Lung Asthma & Critical Care, Family Health Associates PA, Peak Health & Wellness Center, Mental Wellness Clinic of Coeur D Alene, Group Health Cooperative, Monarch Mental Health LLC, and many more. photo attribution: ufv