The CNA schools conducting training in Everett, Washington are available through the list featured here. Only those who meet the course requirements are eligible for testing to receive their license and placement on the state registry.
Sno-Isle Technical Skills Center
9001 Airport Road,
Everett, WA 98204
(425) 348-2227
Everett Community College
2000 Tower Street,
Everett, WA 98201
(425) 388-9550
Medprep Vocational Training Center
1830 Broadway,
Everett, WA 98201
(425) 257-9888
If you wish to work as a nursing aide in Washington, then you'll have to get a NA Certification that's issued by the Washington State Department of Health. Training to become a nursing assistant is not only quick and easy, but they're also different ways for you to become one.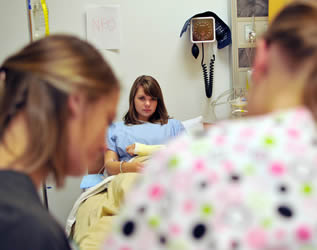 If you have never been certified as a nursing aide before, then the only way for you to become one is to pass the National Nurse Aide Assessment Program Exam or NNAAP Exam. This exam consists of a written/oral test and a skills evaluation exam. It is conducted by ADSA with the help of Pearson VUE. Only applicants who were able to complete a state-approved training program are allowed to apply for the exam.
Different ways to establish eligibility for the NNAAP Exam:
–    Complete a NA Training Program
–    Train as a medic through a military training course
–    Complete at least one semester of nursing school as a nursing assistant or nursing graduate
–    Finish a health care training course and apply through the Alternative "Bridge" Program
–    Receive healthcare training in another state
Aside from completing any of those routes, you will also have to pass the national background checks for criminal records. For newly nursing aide students, this is usually done upon enrollment into a program. However, there are also some courses that will only accept a person if he has already cleared the checks.
The NNAAP exam is scheduled on a first-come, first-served basis. If you become unavailable on your scheduled date, you can reschedule for free if you inform the NACES at least 5 business days before your exam date. If you wish to cancel, please remember that all payments are non-refundable. The good news is if you fail to inform them on time, there is no penalty fee. You will just be transferred to another testing date.
Each candidate is given a maximum of 3 attempts to pass both tests. If you fail for the 3rd time, then you'll be required to complete another training program before you can reapply once more. Your training will only be valid for one year. This means that you'll also have to get certified within that time.
This city is the county seat of Snohomish County. It was named after Everett Colby, who was the son of the founder- Charles L. Colby. This city is considered as the largest city in the county. It has a total population of 103,019 during the last census. It has a total area of approximately 47.6 sq miles and has a population density of 2,815/sq mile.
The Providence Regional Medical Center Everett is considered as one of the largest employers in the city. Other health care centers that you can find in the city include Providence Physician Group, Radia Center For Vascular Disease, Community Health Center Of Snohomish County, Group Health Cooperative, and Care Crisis Response Services. photo attribution: ufv