The CNA school classes in Reno, Nevada that are approved by the Nevada State Board of Nursing and available as of the making of this post are all shown to you on this page. For additional information about this training curriculum, program requirements, class tuition rates, or schedules, please contact them through the phone number listed below.
Sierra Nevada Job Corps
14175 Mount Charleston St.
Reno, NV 89506
(775) 972-5627
http://sierranevada.jobcorps.gov/home.aspx
Truckee Meadows Community College
7000 Dandini Blvd.
Reno, NV 89512
(775) 676-7115
http://www.tmcc.edu/
According to OBRA all individuals who are routinely providing nursing care that is delegated by licensed nurses are required to be in the NA Registry. In order to be entered on the Registry, one must be able to pass all the CNA tests in the license exams after completing a state-approved training program.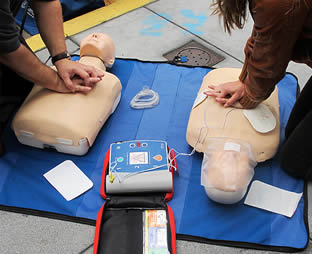 The CNA training programs for the state of Nevada will take around 8 to 13 weeks to complete. The programs will offer at least 75 hours of training. These hours will be divided into 60 hour of classroom lectures and laboratory works and another 16 hours of skills training before one is allowed to work in a nursing facility. The 16 hours will include training for communication and interpersonal skills, infection control, promotion of safety and emergency procedures, promoting the resident's rights and independence.
You will also get to practice using equipment and performing the tasks used by nurse aides in a health care setting. Some of the tasks you will practice are: recording vital signs (such as blood pressure,  use of EKG, rectal & oral temperature, brachial & radial pulses, and respiration), grooming, catheter care, perineal care, housekeeping, putting on elastic stockings, transporting patients, using a transfer belt, nourishment, range of motion exercises, and managing clients with special needs.
At the end of the training, there will be a final exam. The exams will be composed of a skills demonstration and a written exam. These are the same types of exams that one will be taking when challenging the license exams. One must be able to pass the final exams in order to graduate from the training program. To get the latest information about testing and the requirements to qualify you can call the Board of Nursing toll free at (888) 590-6726.
Reno is the county seat of Washoe County. As of the 2010 census, this city has a total population of about 220,500. It is considered to be one of the most populous city in the state of Nevada. You can find this city situated near the foothills of Sierra Nevada. It has a total area of approximately 69.3 sq miles and a population density of 2,611.4/sq mile. Major roads serving this city include U.S. Route 40, U.S. Route 395, and Interstate 80.
Examples of health care centers that you can find in the area include Lougaris VA Medical Center – VA Sierra Nevada Health Care System, Willow Springs Center, Bhc West Hills Hospital, Bhc Willow Springs Center, Healthsouth Rehabilitation Hospital, and many more. photo attribution: anitakhart