All the CNA training schools that are found on this page offer the most recent and up-to-date training in Meridian, Mississippi. By enrolling and finishing an approved course you will be allowed to qualify to take the license examination.
East Mississippi State Hospital
4555 Highland Park Drive,
Meridian, MS 39307
(601) 482-6186
www.emsh.state.ms.us/
Meridian Community College
910 Highway 19 North,
Meridian, MS 39307
(601) 483-8241 or (601) 484-8745
http://www.mcc.cc.ms.us/
(Summer classes are also available)
Queen City Nursing Center – Meridian
1201 28th Avenue,
Meridian, MS 39301
(601) 483-1467
There are only a few options to get your name entered on the Registry and receive a CNA certificate. One option is by applying for reciprocity. This however is only available for those who are already a registered nursing assistant in a different state. Reciprocity is the process by which that individual will be allowed to transfer and gain authorization to work in the state.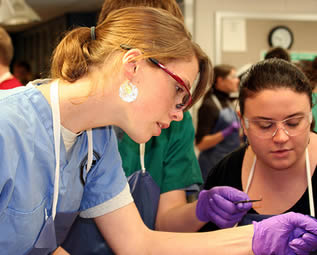 The other option is to first enroll in a training class and then take on the license exams afterwards. A training class will take 6 weeks to complete. It must be approved by the state of Mississippi so that you will be able to take the state exams. Training that was completed in a different state will not be honored. During your instruction you will get the opportunity to practice the most commonly used nurse aide procedures in a setting like that found in health care centers. In addition you will learn the theoretical instruction and knowledge necessary for caring for patients.
By completing a training class, you will then be able to apply for the exams. You will need to send the application form along with proof of your training and a money order for the testing fees. You can get a copy of the application form from:
1.    Your training program.
2.    The NACES
3.    By downloading and printing it from www.pearsonvue.com.
Pearson Vue can be reached for more information about the examination and scheduling by calling 1-888-204-6213. For additional information about the most recent nurse aide requirements you can try calling the Mississippi State Department of Health at 601-364-1100 and speakign with one of their support representatives.
Meridian, also known as "Queen City", serves as the county seat of Lauderdale County. With a total population of 39,968 and a land area of 45.1 square miles, it is considered to be the 6th biggest city in the state of Mississippi. By following its major highways, nearby cities include Jackson; Birmingham, Alabama; Memphis, Tennessee; and New Orleans, Louisiana.
The healthcare centers that you can find serving the city include Family Counseling Services, Internal Medicine Clinic, Greater Meridian Health Clinic, Smile Center of Meridian, Rush Ambulatory Care Center, Innovative Behavioral Service, Rush Medical Group, and Primary Care Clinic. photo attribution: iubmedicalsciences