The CNA salary in Pennsylvania depends on a range of factors including the city one is employed at, the length of employment, as well as the medical facility. Self employed nursing assistants generally earn the most income, however they don't receive the benefits offered by many nursing home, health care agency, clinic and hospital employers.
A CNA or certified nursing assistant is a health care professional who tends to the daily quality-of-life needs to the sick or elderly. If you like helping people and are looking to make a career out health care, being a CNA will be a great job for you. Experience in this field is helpful for those who want to become a registered nurse.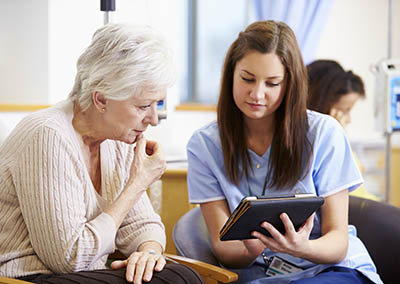 As a CNA you will provide daily care to patients and will also be expected to observe and report on any changes in their condition. Nursing assistants are found working in a variety of health care settings such as hospitals, nursing homes, clinics, assisted living facilities, retirement homes, and even as in home caregivers
A CNA can find work in hospitals, clinics, nursing homes, adult day care centers, assisted living facilities and even in personal homes. A CNA has daily contact with patients and provide for their basic quality-of-life needs and are able to gather vital information about a patient's condition.  Being a CNA allows you to take home a good salary and offers you the satisfaction of knowing that you are helping people in need.
In the United States, the average salary for a CNA is around $12.02 an hour or $23,726 a year. In Pennsylvania, according to Indeed.com, the average pay of a CNA is $12.97 an hour or $24,357 a year. The location of a CNA often plays a part in the amount of salary they can expect to be offered.
Check out the following list which shows the average annual CNA salary in Pennsylvania for popular cities:
$31,000 Allentown
$29,000 Altoona
$31,000 Bethlehem
$35,000 Doylestown
$31,000 Easton
$29,000 Erie
$30,000 Greensburg
$30,000 Harrisburg
$29,000 Johnstown
$30,000 Lancaster
$30,000 Lebanon
$35,000 Levittown
$33,493 Philadelphia
$31,000 Pittsburgh
$31,000 Reading
$29,000 Scranton
$29,000 State College
$31,000 Stroudsburg
$33,000 West Chester
$29,000 Wilkes Barre
$29,500 Williamsport
$30,000 York
The amount of work experience that a CNA has will have an impact on the salary that they will be offered. An inexperienced CNA, working at an entry-level position will get around $22,000 a year. While this in not bad, it's still relatively low compared to what a more experienced CNA will earn in Pennsylvania.
Don't worry though, after you have been with a facility for a certain amount of time, you should be able to negotiate for higher pay and even for health insurance.
The type of facility and work that you do is also a factor in the amount of salary you can expect.
Check out the following list showing the CNA salary in Pennsylvania by the type of health care employer.
Self Employed $43,000
Hospital $29,000
Home Health Agencies $27,000
Nursing Home $23,000
Home Care $21,000
Self employed or independent CNAs command the highest rates among CNAs in Pennsylvania. They get around $9-17 an hour. To become an independent nursing aid in Pennsylvania, you need to have at least one year experience working in the state.
Hospitals and home health agencies in Pennsylvania don't offer as much as self employment, but they do offer reasonable rates and other benefits. One of the biggest benefits working for these facilities is the experience you can get. The tasks given to a CNA working in a hospital vary and you can gain a lot of skills that you otherwise might not in other facilities.
Though nursing homes don't pay as much as other facilities, they are considered a major employer for health care workers in the state. These facilities are always looking for CNAs to care for their residents. They often provide other benefits such as paid leaves and insurance.
For those wanting to receive certification to work there are many CNA classes in Pennsylvania available. Instruction will cover an assortment of skills typically used day to day on the job and cover all of the state mandated information for you to become certified to work.