The CNA salary in New Mexico depends on several elements which are location, time on the job and type of employer. Certified nursing assistant can find employment in a variety of settings including clinics, hospitals, nursing homes, assisted living facilities, adult day care centers and personal homes.
If you're looking for a job that allows you to work in the medical field but doesn't require you to spend several years getting a degree a certified nursing assistant may be a great way to start. A certified nursing assistant works under a registered nurse and helps them take care of the daily healthcare needs of patients.
Working as a CNA, you will have the satisfaction of knowing that you are helping people in need – and also be able to take home a decent pay check. In the United States, the average salary a CNA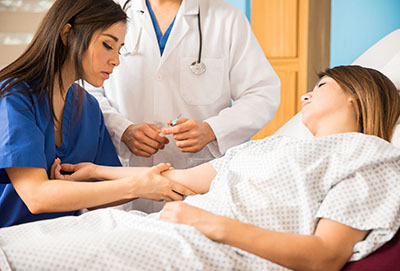 gets is around $12.02 an hour which can come to around $23,726 a year. In New Mexico, the average salary for a CNA, according to Indeed.com, is around $12.04 an hour or $24,467 a year.
Take a look at the following list of the average annual CNA salary in New Mexico:
$27,800 Alamogordo
$29,000 Albuquerque
$27,200 Clovis
$28,700 Farmington
$26,200 Hobbs
$26,300 Las Cruces
$28,900 Rio Rancho
$27,400 Roswell
$29,400 Santa Fe
$27,200 Sunland Park
The salary you will get as a CNA in New Mexico will be determined by your level of education and experience, as well the job location. The lowest annual wage of a CNA in New Mexico comes to around $17,000, while the highest can reach about $34,000 and more.
Take a look at this list of the average yearly income for CNA workers in New Mexico according to where they are employed:
Self Employed $44,000
Hospital $29,000
Home Health Agencies $28,000
Nursing Home $23,000
Home Care Worker – $21,000
Experience counts for a lot when it comes to CNA positions in New Mexico. Jobs in hospitals and other government agencies, or the top health care firms usually go to experienced CNAs.
If you are a newly certified CNA in New Mexico, chances are that you will mostly find employment at nursing homes or with the home health care sector. While this may not pay as well as other CNA jobs in New Mexico, taking a position in a nursing home or in home health care offers you the chance to get the valuable work experience you will in order to seek for a higher paying position in the future.
After about five years of work experience, it should then be relatively easy for you to get a position with a hospital, government agency or even a private company. As an experienced CNA, you will now be in a position to command a higher salary. These entities are willing to pay more for experience as it will save them time and money on training.
An experienced CNA also has the opportunity to work as a self-employed CNA. This is the position with the highest salary in the state. Private individuals hire experienced CNA's, usually on an hourly basis, to provide in-house health care.
Visit this page to find CNA classes in New Mexico listed by city as well as information about school requirements and curriculum.