The CNA salary in Iowa can vary depending on the city you work in and the type of health care facility you are employed at. Certified nursing assistants perform basic patient care which includes feeding, dressing, and bathing clients under the supervision of registered nurses or LPNs. CNAs are compensated well with a good wage for providing medical care services that they render to various clients.
In Iowa, certified nursing assistants receives an average salary range of $20,000 to $29,000 for each year. The income as well as other remunerations related to the job mostly depend on several factors such as location, employer, professional achievements, additional education, and work experience.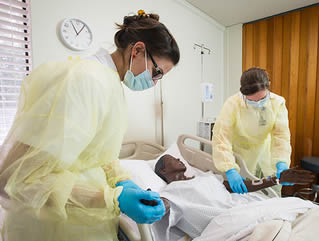 The cost of living in rural areas is less compared to the urban areas. For this reason, employers are paying increased rate to CNAs who live in higher cost of living in order to compensate for their day to day expenses. This gives a balance for living in high profile areas. There are some CNAs who reside in lower cost areas who choose to commute to medical facilities to earn more money.
Having a work experience helps certified nursing assistants in Iowa with regard to salary. The more a CNA has an experience the more opportunities for better jobs are available. Experienced CNAs receive more income compared to entry-level CNAs because of the skills they have already acquired and more tasks and responsibilities are expected from them.
Most of the employers prefer to hire CNAs who are trained and highly qualified. Organizations such as the private clinics or hospitals prefer hiring certified nursing assistants with experience and offer high hourly rate. The reason for this is that they would not want wasting time and money for new nursing assistants who still need more training.Those who have experience can also become self-employed and earn a higher wage at the expense of benefits that are normally provided by employers.
There are some government hospitals or nursing homes offering training for free however CNAs are required to work for them for a specified time in exchange for the ongoing training. As of this writing the training must consist of 75 hours of classroom work and 30 hours of practice in a clinical setting.
In Iowa, the average annual salary income for certified nursing assistants varies according to different employment settings and this is presented as follows:
– Self employed $46, 000
– Hospital $31, 000
– Home health agencies $29, 000
– Nursing home $24, 000
– Home care $22, 000
Aside from the salary that CNAs receive, they are also offered benefits by employers that they can take advantage of. These perks include the following:
– Bonuses
– Social security
– Healthcare facilities
– Pension
– Family and medical leave
– Health insurance
– Long-term disability insurance
– Retirement plans
– Dental insurance
– Paid vacation and sick leaves
The annual CNA salary in Iowa varies depending on which city they work. Here is a breakdown or expected annual earnings for the most popular cities:
– Ames $27, 362
– Ankeny $30, 459
– Cedar Falls $25, 865
– Cedar Rapids $28, 776
– Council Bluffs $29, 822
– Davenport $29, 257
– Des Moines $30, 459
– Dubuque $25, 678
– Iowa City $26, 048
– Sioux $24, 146
– Urbandale $30, 459
– Waterloo $25, 865
– West Des Moines $30, 459
If you would like to get more information about joining CNA classes in Iowa check out this directory. Those who successfully complete the required course requirements become eligible to sign-up for the certification exams which will allow one to become added to the state's worker registry.