Certified nursing assistants are members of a health care team working at hospitals, nursing home's and long term care facilities. The demand for quality care is increasing in the state of Florida each year. As the need grows a common question asked for those wanting to enter the profession, is what is the CNA salary in Florida? There is an estimation that the average hourly pay rate for nursing assistant in Florida is an average of $11.13 which is approximately $28,000 for each year.
In Florida, the recruitment for certified nursing assistants has grown and is a great opportunity to gain experience in the medical field. The profession of CNAs, or otherwise known as nursing aides, are regarded as one of the most sought-after employees to help health care organizations with their day to day duties. With its high demand, they are expected to render high quality care to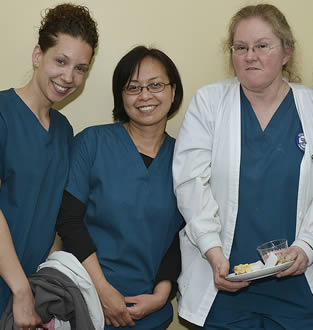 clients under the supervision of registered nurses or LPNs. Part of their duties include taking vital signs like pulse rate and blood pressure, recording food and fluid intake of patients, monitoring catheters, and changing bedpans.
Education is as important as with other professions because it is the key to get the job that you desire. Education and training is vital for work opportunities however work experience is more influential in being able to earn higher salary wage. If you constantly work as certified nursing assistant for years then you will be able to apply for positions in bigger health settings like hospitals , government agencies, or private companies.
Entry-level certified nursing assistants with a year of work experience earn less compared to other CNAs who have two or more years of work experience. CNAs having the minimum educational requirement is able to annually earn about $20, 000 while CNAs having additional education, degree, certifications or training can earn approximately $28, 000 to $30, 000 for each year.
Just like the other states of US, Florida offer greater chances of getting higher salary wage in urban areas compared to countryside areas. There is better work facilities as well as career prospects in the metropolis areas.
The average salaries for job postings for certified nursing assistants in Florida is about seven percent lower compared to the CNA salaries for national job postings. According to the Department of Labor of USA, healthcare employment for CNAs is anticipated to increase by about twenty percent up to year 2020.
The following are various facilities and their corresponding pay rate per hour:
– Hospitals – the pay rate is higher in hospitals than in other facilities ranging from $11 to $15 per hour.
– Nursing Homes – the usual earning is between $10 to $13 for each hour.
– Community Care Facilities – pay rate per hour is approximately $9 to $12.
– Home Health Aides – the hourly rate is about $8 to $11.
The following is a list of CNA Salary in Florida for different cities and their corresponding annual wage for certified nursing assistants:
– Boca $27, 151
– Brandon $26, 298
– Cape $24, 537
– Daytona Beach $25, 030
– Fort Lauderdale $26, 632
– Gainesville $24, 896
– Hollywood $26, 632
– Jacksonville $26, 3665
– Melbourne $24, 685
– Miami $27, 053
– Orlando $26, 230
– Palm Bay $24, 685
– Pembroke Pines $25, 929
– Pompano Beach $26, 632
– Saint Petersburg $26, 092
– Spring Hill $25, 075
– Tampa $26, 326
– West Palm Beach $26, 090
To get more information about attending CNA classes in Florida click here.