CNA programs located in the city of Kennewick, Washington are displayed here. Courses shown are open for enrollment and have met the requirements for classes in this state.
Canyon Lakes Restorative and Rehab Center
2702 South Ely,
Kennewick, WA 99337
(509) 582-5900
Tri-Tech Skills Center
5929 West Metaline Ave.,
Kennewick, WA 99336
(509) 222-7300
Life Care Center of Kennewick
1508 West 7th Ave.,
Kennewick, WA 99336
(509) 586-9185
The completion of a state-approved training program is a requirement to become a certified nurse aide (CNA) in Washington. According to the OBRA, only properly trained and certified workers can be employed in a state-approved health care facility. Luckily, there are different ways for a person to get the training that he or she needs.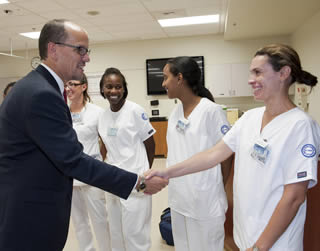 Certified nurse aide training in Washington consists of at least 50 hours of clinical practice and 35 hours of classroom lectures. Students are taught about the different basic nursing skills and the concepts that they might use when taking care of the patients. During the entire training period, students are placed under the supervision of an experienced instructor. Most of the programs in the state can be completed within 6 months.
A person can work as a nurse aide even without a certification. To do this, one must apply to become a Nursing Assistant-Registered. A person is given a maximum of 120 days from the first day of working to complete an approved training program and take the certification exam. During the training period, the person is not allowed to perform any procedure that hasn't been taken up in the classroom. All health care providers who are already employed by a health care facility upon enrollment of the training must be paid for by the hiring facility.
The certification exam is a two part examination that consists of a written (oral) test and a skills evaluation exam. Both tests are conducted with the help of Pearson VUE at an approved testing center. If a candidate passes both tests, then his or her name will be entered into the Nurse Aide Registry. Individuals who are listed on the Registry are allowed to apply for a Nurse Aide Certificate from the Washington State Department of Health.
Names on the Registry remain there for at least 2 years. All you have to do to keep it there is to work for as a paid CNA within that time. Unlike certain states, maintaining your status on the NAR and your NA Certificate is two different things in Washington. You must renew your certificate every year on or before your birthday. If your certificate should lapse, you can reactivate it by taking the competency evaluation exam within a year after it lapses.
This city is a part of Benton County. It is one of the cities that form the Tri-Cities. You can find Kennewick near the southwest bank of the Columbia River. The name of the city was taken from the prehistoric man called Kennewick Man, who was found in the Columbia River. According to the census of 2010, their total population was around 73,917 people. It has a total area of approximately 24.3 sq miles and has a population density of 2,710.3/sq mile.
Health care providers that you can find in the area include Kgh Urgent Care, Therapy Solutions, Anderson Chiropractic Clinic Inc PS, Wound Care Clinic, Kennewick Public Hosp Dist, Chan Chiropractic Clinic PS, Integrity Counseling Services, Fresenius Medical Services, and Kennewick Public Hospital District. photo attribution: usdol