The recent CNA Classes in Tacoma, Washington that are available for enrollment can be seen on this page. If you have any questions about their certified nursing assistant classes, feel free to call to speak with an administrator from the school.
Bates Technical College
1101 South Yakima Avenue,
Tacoma, WA 98405
(253) 680-7327
Western State Hospital
9610 Steilacoom Boulevard,
Tacoma, WA 98498
(253) 756-2871
Alaska Gardens Health and Rehabilitation Center
6220 South Alaska Street,
Tacoma, WA 98408
(253) 476-5300
Tacoma Community College Nursing Assistant Certification (NAC) Course
6501 South 19th Street,
Tacoma, WA 98466
(253) 566-5020
Orchard Park Care Center
4755 South 48th Street,
Tacoma, WA 98409
(253) 475-4611
Tacoma Community College – Stadium HS
111 North East Street,
Tacoma, WA 98335
(253) 858-8688
Kamanga CNA Training
1612 South Mildred, Suite A,
Tacoma, WA 98465
(206) 437-1366
Training to become a nursing assistant is a great way to enter the field of health. Compared to other career choices, it's much quicker and a lot easier to become one. The training and experiences that you receive as a nursing assistant make great stepping stones when you want to pursue a higher degree.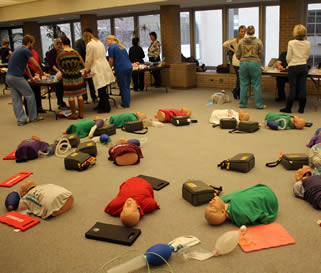 To work as a nursing assistant in Washington, you'll need to enroll in a state-approved training program. These programs will provide aspiring nursing assistants with the knowledge and skills that they need to meet the individual needs of the patients. Approved training curriculum consists of a minimum of 85 hours. These hours are divided into 35 hours of lectures and 50 hours of supervised clinical practice.
Completing an approved program is a necessary step to qualify for the National Nurse Aide Assessment Program Exam. Taking the exam is the final challenge in becoming a nursing assistant-certified. A person who has completed an approved NATP in another state may apply for the NNAAP exam, provided that the applicant was able to meet the same amount of training hours.
The NNAAP exam is a two part examination that consists of a knowledge test and a skills evaluation exam. Candidates have the option to take the knowledge test as either a written or oral exam. If a candidate is able to pass both tests within 3 attempts, then his name will be added to the Nurse Aide Registry.
Once a person's name is added to the Registry, he will be allowed to apply for an NA Certificate from the Washington State Department of Health. This certificate will be one of the first things that employers will look. They are required to call the DOH and the Registry, or visit http://www.doh.wa.gov/LicensesPermitsandCertificates/ProviderCredentialSearch.aspx to check every applicant's certification.
What's next after getting certified? Once you're certified, you'll be allowed to work as a full-time nursing assistant in any health care setting in the state. If you want to improve your knowledge and skills, there are various advance programs or other healthcare training programs that you can enroll in. You can also aim for a higher degree while working as a nursing assistant. If you want to know what healthcare professionals are available in the state, then please follow this link: http://www.doh.wa.gov/LicensesPermitsandCertificates/ProfessionsNewReneworUpdate/HealthcareProfessionalCredentialingRequirement.aspx.
This port city is the county seat of Pierce County. It is located a few miles southwest from Seattle and about 31 miles northeast of Olympia. This city is also known as the City of Destiny. According to the census of 2010, their total population was around 198,397 people. It has a total area of 62.6 sq miles and has a population density of 3,920/sq mile.
Examples of health care facilities that are available are Community Health Care, St. Joseph Women's Clinic, Franciscan Women's Health – Pearl Place, Franciscan Eye Care, The Orthopaedic Center, Franciscan Family Medicine, Franciscan Occupational Health & Port Clinic, and many more. photo attribution: umich-msis