The CNA Classes in Spokane, Washington that have met the training requirements and have been approved by the registry are shown here. You can learn more about how to enroll and the steps necessary to receive certification by calling a school.
American Institute of Medical Careers
4000 E. Boone Avenue, Suite #200,
Spokane, WA 99202
(509) 850-0033
Health Care Training Center
12308 East Broadway,
Spokane, WA 99216
(509) 893-1776
N.W. Pathways NAC Training Center
4105 West Kathleen Avenue,
Spokane, WA 99208
(509) 496-2550
Avalon Care Center at Northpointe
9827 North Nevada,
Spokane, WA 99218
(509) 468-7000
Riverview Lutheran Care Center
East 1841 Upriver Drive,
Spokane, WA 99207
(509) 489-4466
Cherrywoods Assisted Living
100 East Dalke Ave.,
Spokane, WA 99207
(509) 489-2289
Manor Care Health Services
6025 North Assembly,
Spokane, WA 99205
(509) 326-8282
CNA Schools NW, LLC
1817 E. Springfield Avenue,
Spokane, WA 99202
(509) 496-0495
North Central Care Center
1812 North Wall,
Spokane, WA 99205
(509) 328-6030
Spokane Professional Technical Skills Center
4141 North Regal Street,
Spokane, WA 99207
(509) 354-7418
Regency at Northpointe
1224 East Westview Court,
Spokane, WA 99218
(509) 465-8800
Rockwood Retirement Communities
2903 East 25th Ave.,
Spokane, WA 99223
(509) 536-6665
Spokane Community College
1810 North Greene Street,
Spokane, Washington 99217
(509) 533-8151
Sunshine Terrace
1102 South Raymond,
Spokane, WA  99206
(509) 926-3547
One of the best ways to start a career in the field of health is to become a nurse aide in Washington. Nurse aides work under the supervision of a registered nurse and other members of the healthcare team. They help provide nursing and nursing-related care to patients who are in different health care areas. What makes this profession great? Since nurse aides are entry-level professionals, you don't have to spend years before you can work as one.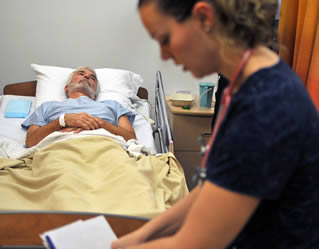 According to the state law, a person must be on the Nurse Aide Registry within 4 days from the start of his work. If you want to immediately start working as a one, then you'll need to apply and' become a nurse aide-registered. A facility is allowed to hire a person to work as a nurse aide, even without a certificate if they take responsibility for his actions.
Nurse aide-registered are allowed to work for only a maximum of 120 days from the start of their work. During that time, the nurse aide must undergo proper training and pass the certification exam to continue working as one. During the training period, the nurse aide-registered is not allowed to perform any procedure or skill that hasn't been taught in the classroom. You can find out more about this by following this link: http://www.altsa.dshs.wa.gov/professional/nat/120%20DAY%20RULE%20EXPLANATION.htm.
If you want to work full-time as a nurse aide, then you'll have to become a nurse aide-certified. You don't need to become a nurse aide-registered before you can get certified. You can apply for a NA Certification as soon as you get into the Nurse Aide Registry by passing the National Nurse Aide Assessment Program Examination or NNAAP exam.
The NNAAP exam is conducted with the help of Pearson VUE. It consists of a multiple-choice knowledge test and a skills evaluation exam. You can only take this test if you successfully complete a training program that is approved by the state's Department of Social and Health Services. Your name will only be entered into the NAR if you pass both tests.
In case a candidate fails, he or she is given another 2 attempts to pass. When retaking the exam, the candidate is only required to retake the test(s) that he or she failed. If a candidate fails the 3rd attempt, then he will have to complete another training program.
This city is the county seat of Spokane County. It is found in the northwestern part of the county and country. This city is considered to be the largest city in the county. According to the census of 2010, their total population was around 208,916 people. It has a total area of 57.8 sq miles and has a population density of 3,387.0/sq mile.
The Sacred Heart Medical Center and Deaconess Medical Center are the two largest hospitals in the city. Other main hospitals include Spokane Veterans Affairs Medical Center, Valley Hospital and Medical Center, and Holy Family Hospital. photo attribution: ufv