The CNA classes in Stockton, California are listed below. For more information about the cost of enrolling in nursing assistant training, class schedules, program curriculum, or certification requirements, please contact one of the schools through the phone numbers shared below.
DE BRABANDER CALIFORNIA COLLEGE OF NURSING
6 WEST MAIN ST. S-K-1
STOCKTON, CA 95202
209-898-4274
GOLDEN LIVING TRAINING CTR
4545 GEORGETOWN PL; #14-C
STOCKTON, CA 95207
209-478-4704
HEALTHCARE COLLEGE OF CALIFORNIA
141 EAST ACACIA ST., STE-B
STOCKTON, CA 95202
209-469-4877
San Joaquin Delta College
5151 PACIFIC AVE.
STOCKTON, CA 95207
209-954-5454
St. Joseph's Medical Center
1800 N. California Street,
Stockton CA
209-943-2000
www.stjosephscares.org
Solano College of Nursing
6 W Main St,
Stockton CA
209-463-0700
www.scnursing.org
Valley Gardens Health Care and Rehabilitation Center
1517 E. Knickerbocker Drive,
Stockton, CA
209-957-4539
www.valleygardenshealth.com
XAVIER COLLEGE
1130 NORTH EL DORADO ST.
STOCKTON, CA 95202
209-941-0968
Have you ever considered on becoming a healthcare provider? If you have then the best way for you to start experiencing what it's like, is to become a nurse aide. Nurse aides are entry-level professionals. They work under the supervision of the registered nurses. They help provide nursing care to patients who are in different healthcare settings.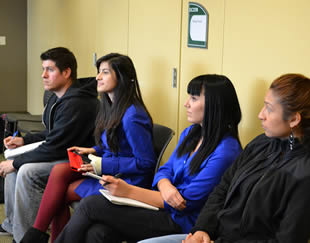 According to the OBRA of '87, you can only work in this state if you are on the Nurse Aide Registry.  The NAR consists of all the names of individuals who were able to meet both the federal and state's training and testing requirements. If you have never been a CNA then you can only gain entry into the NAR if you pass the National Nurse Aide Assessment Program Exam.
Before you can take the NNAAP exam you must first establish eligibility by completing a state-approved CNA training program.  When searching for a program you must make sure that the program you choose is approved by the state's Department of Public Health. You can find such programs offered by hospitals, nursing homes, assisted living centers, community colleges, vocational schools, technical colleges, and government organizations.
Approved training programs take 150 hours to complete. 50 of the hours are allotted for classroom teaching while the remaining 100 hours are for supervised clinical practice. Both the classroom and clinical trainings are taught at the same time. Before students are allowed to handle any patient, they are first required to spend 16 hours learning about infection control, communication and interpersonal skills, safety and emergency procedures, and patient's rights and responsibilities.
Once you are through with your training, you can now apply for the NNAAP exam. Most training programs will provide you with the necessary forms to apply once you are through with your training. All application forms must be sent to the Regional Testing Center in your area along with the payment of $90.  Payments must only be in the form of money orders or cashier's checks.
The NNAAP exam is a two part examination. The first part is the written/oral knowledge test while the second is the clinical skills evaluation. Both of these tests are taken on the same day at an approved testing center. Candidates must pass both portions in order to gain entry into the NAR.
If you fail a test you can immediately reschedule for a retest. During the retest you will only be required to retake the test that you failed. You can only do this twice within 2 years of completing your training. If you fail your 3rd attempt you will be required to undergo retraining before you can reapply once again.
Stockton, CA is located in San Joaquin County and currently has a population of 291,707. It is located south of Sacramento and north of Modesto. It is the 13th largest city in California and also one of  of the states two inland sea ports.
Two of the largest health care related employers in town are St. Joseph's Medical Center, and Dameron Hospital. Some of the biggest health care providers in the city of Stockton, California are Public Health Services of San Joaquin County (209) 468-8600, Community Medical Center (209) 944-4700, St. Joseph's Medical Center, Kaiser Permanente (209)476-2000, Dameron Hospital Physical Therapy (209)461-3142, University of the Pacific (209) 946-2285, and Sutter Gould Medical Foundation (209) 957-7050. photo attribution: codnewsroom