CNA Classes in Richmond, Virginia that are listed on this page offer the most up to date certified nursing assistant classes that you can enroll in as of the making of this post. For more information about taking health care training in the city of Richmond, pleae call the phone number for one of the schools listed on this page.
American Red Cross Nurse Assistant Training Program
420 East Cary Street,
Richmond, Virginia 23219
(804) 343-2793
Hermitage Technical Center
8301 Hungary Spring Road
Richmond, VA 23228
University Park
2420 Pemberton Road
Richmond, VA 23233
Accuhealth Educational Systems
6966 Forest Hill Avenue
Richmond, VA 23225
American Red Cross Nurse Aide Course
420 East Cary Street
Richmond, VA 23218
Asher Comprehensive Training Program
305 Plazaview Road
Richmond, VA 23224
(804) 233-9494
Health Careers Institute
8748 Landmark Road
Richmond, Virginia 23228
J. Sargeant Reynolds Community College
P.O. Box 85622
Richmond, VA 23285
(804) 371-3000
So you want to become a nursing assistant? Well, the great thing about becoming one is that there are different routes that you can take to get a CNA certification. This certification is a necessary thing for employers will only accept individuals who have a valid nurse aide certification. The most common way of getting a certification is by challenging the NNAAP exam. You can establish eligibility by meeting any of the following routes: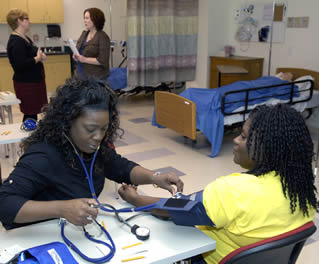 New Nurse Aides
This route is for individuals who have successfully completed a state-approved CNA program that consists of a minimum of 75 hours of lectures and supervised clinical practice. Candidates who already took the NNAAP exam but failed can retake the exam by applying through this route. Applicants are required to show proof of their education and training when submitting the application form.  They are also asked to indicate if it's their first time to take the NNAAP exam or not.
Certification as a Nursing Student
Nursing students who are currently enrolled in a nursing program or have completed at least one full semester of the Fundamentals of Nursing are allowed to apply. Applicants must also provide proof that they completed at least 40 hours of providing nursing care while enrolled in a program.
Nursing Graduate
Since nursing graduates received similar training to the training offered in a CNA program, they are also welcome to take the NNAAP exam if they wish to pursue this line of work. A lot of nursing graduates are currently doing this because of the great demand for nursing assistants throughout the United States.
Lapsed Certificate Holder
CNA certifications in this state are only valid for 2 years. To keep one's eligibility, a worker must renew his or her certification before it expires. If they fail to renew on time, the state has allowed a 90 day grace period. If the holder still fails to meet the requirements or renew within that time, then his certification will expire and he must take the NNAAP exam to reactivate it.
The National Nurse Aide Assessment Program Examination
The NNAAP exam consists of a multiple-choice knowledge test and a skills evaluation exam. The state has asked Pearson VUE to help conduct, score, and release the exam results. Only candidates who are able to pass both tests within a year after applying or within 3 attempts are given a certificate issued by the state's Board of Nursing.
This city is the capital of the Commonwealth of Virginia. It is not a part of any county and is the center of the Richmond Metropolitan Statistical Area. According to the census of 2010, their total population was around 204,214 residents. It has a total area of approximately 62.5 sq miles and has a population density of 3,211/sq mile.
Health care providers that you can find in this area include Elkridge Gathering Center, D.Y.V.I.N.E. Youth Services LLC, Medical Office, West End Orthopedic Clinic MRI, Virginia Health Care Association, Center for Psychological Assessment and Therapeutics, Affordable Health Care, Healthcare Management Group, and many more. photo attribution: codnewsroom