The CNA training schools in Providence, Rhode Island that are shown on this page offer top quality state approved programs that you can enroll in. For any questions about instruction schedules, cost, or license requirements, you can call the phone number provided for you below.
Steere House Nursing and Rehabilitation Center
100 Borden Street,
Providence, RI 02903
(401) 454-7970
Berkshire Place
455 Douglas Avenue,
Providence, RI 02908
(401) 553-8600
The goal of the Home Reformation Act is to provide better quality care to patients who are in nursing homes, long-term care centers, hospitals, and other health care facilities. In order to help meet this goal all aspiring nursing aide candidates must now undergo proper training in a certified training program and get certified.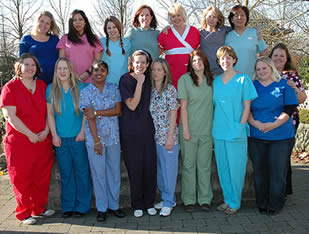 The state requires training programs to consist of at least 100 hours of instructions, which already includes 20 hours of clinical practice. Most programs in Rhode Island offer 88 hours of classroom instructions and 32 hours of supervised clinical practice. You can complete your training within 90 days or 6-12 weeks depending on the program that you choose. When selecting a program, just remember to choose one that's approved by the Rhode Island Department of Health.
Before the students are allowed to handle any patient, they must spend 16 hours learning the following concepts:
–    Patient Rights and Independence
–    Basic Nursing Skills/Procedures
–    Personal Care
–    Communication and Interpersonal Skills
–    Safety Precautions
–    Emergency Care
–    Medical and Surgical Asepsis
Upon completing your training, your instructor will provide you with the application forms for the state license exams. If your instructor fails to provide you with the forms, you can download and print a copy by going to www.pearsonvue.com. You will only have one year after completing your training to get certified. Send your completed application form along with your proof of completion of training, immunization records, background check results, fingerprint card, I.D. photo, and the payment fee of $99 to:
Community College of Rhode Island
Center for Workforce and Community Education
Rhode Island NNAAP
400 East Avenue
Warwick, RI 02886
If you have trouble completing the application, or have any questions regarding the nursing aide certification process, please call the CCRI Customer Service Representative at (401) 333-7077.
The license examinations are split into two parts: the written/oral test and the practical skills demonstration exam. Candidates will have 120 minutes to answer 70 multiple-choice questions on the knowledge test and 25 minutes to perform 5 randomly selected nursing procedures in front of a CNA evaluator.
The exam results are released on the same day if there are no technical problems. The names of candidates will be entered into the Nurse Aide Registry if they are able to pass both tests. Once the NAR enters their names, they will then mail the candidates' licenses to their mailing address. This license will prove that its holder is certified and is a qualified nursing aide.  For the latest state requirements you can contact the Rhode Island Department of Health Nurse Aide Registry at (401) 222-5888.
The city of Providence is the capital for the state of Rhode Island. It also serves as the county seat of Providence County. This city is one of the first cities that were established in the country. With a total population of 178,042 people and a population density of 9,950/sq mile during the 2010 census, they are the most populous city in the state. They also rank as third biggest city in the New England Region. The city was founded by Roger Williams in 1636. Providence is also known as The Creative Capital, Beehive of Industry, and The Divine City.
The Rhode Island Hospital, Women & Infants Hospital, Miriam Hospital, and Roger Williams Medical Center     are four of the biggest employers in the city that are involved in health care. Examples of other health care providers there include Rhode Island Blood Center, Children's Friend & Service, STD Test Express, Elmwood Adult Day Healthcare, and many more. photo attribution: ufv