The CNA classes in Pompano Beach, Florida that are open for enrollment as of the making of this post are all written on this page. For more information about enrolling in certified nursing assistant classes in the city of Pompano Beach, please call the phone numbers below.
Advanced Health Care Institute
750 E. Sample Road, Bldg 3, Ste 1
Pompano Beach, FL 33064
754-246-8175
Blanche Ely High School
1201 Nw 6Th Avenue Suite 200
Pompano Beach, FL 33060
El Janes Institute of Coral Springs
216 North East 1st Avenue
Pompano Beach, Florida 33060
(954) 728-8400
James International Academy Of Health
195 Ne 1St Ave
Pompano Beach, FL 33060
954-785-4459
Instutech, Inc.
866 North Federal Highway
Pompano Beach, FL 33062
(954) 784-0774
Med-Life Institute
3501 Ne 3Rd Avenue
Pompano Beach, FL 33064
954-943-8667
Progressive Training Center
98 E. Mcnab Rd. Suite 98
Pompano Beach, FL 33060
954-946-2022
The first step in becoming a nursing assistant is enrolling in a state approved CNA training program. According to the state rules, they must offer at least 75 hours of classes and 100 hours hands-on skills training. The students must be able to experience what it is like in the real setting. Depending of the program you choose, the training will last about 6 months on average. You can find that the programs here are being offered by colleges, high schools, and nursing homes.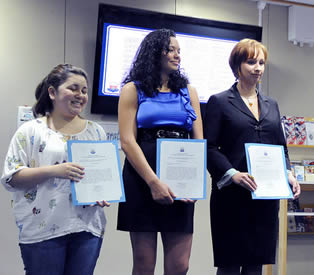 After the completion of the training program, you can then apply for the license exams. The certification exams of this state are conducted by Prometric. Their examinations are composed of a written and a skills demonstration. If you want to have an oral exam instead of a written, you can send a letter of request when you apply. To get your license, you must pass all tests. There is no partial passing for the tests. If you fail one test, you will not be eligible for a refund for the rest of what you paid during your application. This rule also apply to the passing of the background checks.
Nurse aide licenses in Florida expire every 2 years. If you want to continue working as a nursing assistant, you must renew it before then. You can reapply either through the internet by filling up the forms or you can send your reapplication through mail. Call (850) 245-4125, the phone number for the Florida Nursing Assistant Registry to get more certification details.
This city is a part of Broward County. You can find it situated just along the Atlantic Ocean. It can also be found just north of Fort Lauderdale. It is included in the Miami–Fort Lauderdale–Pompano Beach Metropolitan Statistical Area. According to the census of 2010, their total population was around 99,845 people. It has a total area of approximately 25.8 sq miles, and has a population density of 3,870/sq mile.
Health care centers that you can find in the area include Urgent Medical Care Inc., Keisha Goodison DO PA, State of Florida North Regional Health Center, Colonial Healthcare Services, Regional Health Network MRI, Sun Coast Health Clinic, Ostomac Inc., Kiskeya Health Network, American Health Associates Clinical Laboratories, Margate Health Care Center, Healthcare Pain Management, and many more. photo attribution: us7thfleet