The CNA classes in Palm Bay, Florida that are open for enrollment as of the making of this post are all listed for you on this page. Contact one of the education facilities from the list below to get more information about program enrollment, class schedules, the requirements of the certification exam, or the cost of tuition.
Brevard Community College at Bayside High School
1901 Degroodt Road SW
Palm Bay, FL 32908
(321) 956-5000
Brevard Community College
250 Community College Parkway SE
Palm Bay, FL 32909
(321) 632-1111
Palms Rehabilitation and Healthcare Center
5405 Babcock Street Northeast
Palm Bay, FL 32905
(321) 722-0600
Vocational Training Institute
2550 Palm Bay Road
Palm Bay, Florida 32905
(561) 502-8656
The first step in becoming a nursing assistant is through the completion of a CNA training program that is approved by the state. These programs must offer its students at least 75 hours of theoretical lessons on the Fundamentals of Nursing and 100 hours in hands-on skills training. The students must have the chance to experience what it is really like in the actual healthcare setting before they complete their training because it is believed that this will develop a strong foundation for them.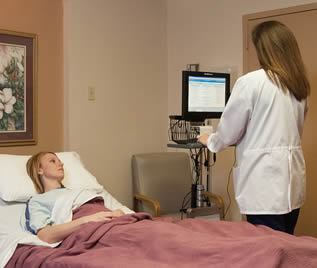 As a nursing student, you will be taught in different aspects of nursing care like mental health, infection control, therapeutic communication,  patient's rights, medical ethics, as well as how to promote patient safety. You will also be trained in the different nursing skills that you will use to take care of the patients like catheter care, proper hand washing, assisting in ambulation, feeding, ROM exercises, vital signs taking, and other basic nursing skills.
After you complete your training, you can then apply for the license exams by sending the necessary documents like your high school diploma, a photo ID, passport size pictures, fingerprint cards, and the fees for the background check and the exams. You will not be allowed to take the exams if you fail the background check. According to the rules, you will also not be refunded if you fail the background check or any part of the tests. Contact the Florida Nursing Assistant Registry at their phone number (850) 245-4125 for more details about requirements.
This city is in Brevard County. It is included in the Palm Bay–Melbourne–Titusville Metropolitan Statistical Area. According to the census of 2010, their total population was around 103,190 people. It has a total area of 68.8 sq miles, and has a population density of 1,570.6/sq mile.
Health care centers that you can find in the area include Palm Bay Kidney Center, Omni Healthcare – Sports Medicine, Trinity Medical Center, Brevard Health Alliance, Billing Palm Bay Urgent Care Walk In Clinic, Palms Rehab & Health Care Center, Handprints Massage Therapy, Castro Medical Clinic, and Christie Dental Group LLC. photo attribution: usdagov