The CNA classes in Oklahoma City, Oklahoma that are shown on this page offer the most recent and up to date certified nursing assistant training programs one can enroll in at this time. More details about the school and its program can be obtained by calling the facility and speaking with a representative.
Daily Living Centers Inc.
3200 NW 48th, Suite 101,
Oklahoma City, OK 74106
405-949-1197
(ADC course are also being offered here)
Francis Tuttle Technology
7301 West Reno Ave.,
Oklahoma City, OK 73127
(405) 717-4900
Francis Tuttle Technology
12777 North Rockwell,
Oklahoma City, OK 73142
(405) 717-4900
(Multiple classes are available)
Full Term
4001 North Classen Blvd Su 205,
Oklahoma City, OK 73118
(405) 964-0505
Grace College
4350 Will Rogers Pkwy Su 100,
Oklahoma City, OK 73108
(405) 640-4436
Metro Technology Centers
Business Address:
1900 Springlake Dr
Oklahoma City, OK 73111
Phone: (405) 424-8324
Website: www.metrotech.edu
Moore Norman Technology
13301 South Pennsylvania Ave.,
Oklahoma City, OK 73170
(405) 364-5763
OSU Nurse Aide Program
900 North Portland,
Oklahoma City, OK 73107
(405) 945-8646
(Other courses are also being offered)
Oklahoma Association of Health Care Providers
200 NE 28th St.,
Oklahoma City, OK 73117
(405) 524-8338
Shadow Nursing, Inc.
2405 NW 39th Street, Suite 103,
Oklahoma City, OK 73112
(405) 557-0355
Southwest Health Care Training
9813 South Pennsylvania Ave.,
Oklahoma City, OK 73159
(405)616-2144
(Also offers other courses)
New Frontiers
1400 North Council Rd.,
Oklahoma City, OK 73127
(405) 789-2262
Training to become a CNA can be one of the best career moves you can make. The opportunities for this profession are constantly growing. It is believed that this growth will continue up to the next decade. Compared to other career options that you may have in entering the health care profession, this is the most practical. The training is quick and affordable.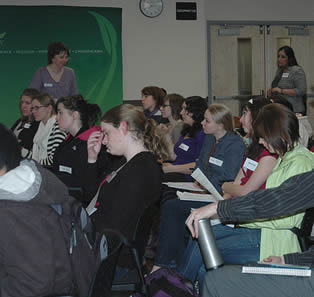 Your first step to becoming a nursing assistant is to look for a state-certified training course. You can find this offered at your local community college, nursing homes, hospitals, and even online. Since this line of work is very hands-on, your training will consists of lectures and practical training. Certified-programs are required by law to offer no less than 75 hours of classroom instructions and 16 hours of practical training. Before you are allowed to handle actual patients, you must cover at least 16 hours on topics like infection control, safety and emergency procedures, personal care, patients' rights and independence, and communication skills.
After you complete your training, you can then apply for the evaluation examination. Nursing student and graduates are allowed to apply for the exam without the need for any additional training. When applying, you must send several documents along with your completed application form and the payment for the fees like proof of your completion of training, transcript of records or diploma, fingerprint cards, ID photo, passport-sized pictures, immunization records, a negative TB test result, and proof that you passed the national background check.
To work as a nursing aide in this state, you must be able to pass the competency exam. The competency exam for this state is conducted by the Headmaster Testing Services. They are also the company that is handling the exam to be a Home Health Aide. The exam consists of two parts. The first part is the Knowledge tests. This part can either be taken in its written or oral form. The second part of the exam is the skills evaluation.
The evaluation exam in Oklahoma is conducted by the Headmaster Testing Service. If you are able to pass the knowledge test and the skills evaluation, you will get into the Oklahoma Nurse Aide Registry. Only those who are on the NAR will be allowed to work as a nursing assistant. If you have any questions regarding the evaluation exam, you should contact OSU-OKC Technology Education Center at (405) 945-9145. You can also download a copy of the NA Candidate Handbook by visiting the Headmaster official website at www.hdmaster.com.
By passing all the tests, your name will be entered in the Oklahoma NAR and you will get certified. You can check your record on the Registry by going online and visiting the state's official website (http://www.ok.gov/health/pub/wrapper/naverify.html). You will only need to provide your full name or the certification number to check.
Once you are on the NAR, you will officially become a nursing assistant I. This however, is not the full extent of the opportunities that this profession has to offer. If you are able to maintain a good status and work for at least 6 months in the same qualified nursing facility, you will be eligible to train to become a CNA II. The training for this advanced certification is free because of its funding from the OSDH.
Getting a nursing aide II certification is still not the full extent of what this profession has to offer. You can still climb further up by becoming a CNA III. To be eligible for training, you must work for a minimum of 1 year as a nursing aide. For more information on how to be a nursing aide III, you can follow this link: http://www.ok.gov/health/pub/wrapper/naverify.html or contact Doryah Huser at Doryah@health.ok.gov.
There are six classifications of nursing aides. Each of them has its own scope of duties and responsibilities. Some of the classes are considered as advanced so you can only enroll in their training if you are already a nursing aide. Currently the six classifications are:
1.    Long Term Care Aide/Assistant
2.    Home Health Aide/Assistant
3.    Developmentally Disabled Direct Care Aide/Assistant
4.    Residential Care Aide/Assistant
5.    Adult Day Care Aide/Assistant
6.    Certified Medication Aide/Assistant
Another way to get into the NAR is by applying for reciprocity. CNAs from another state who wish to work in Oklahoma should file an application for reciprocity (http://www.ok.gov/health2/documents/HRDS-NAR%20RecertAppAides%20ODH%20717.pdf). The applicants must have an active certification and a clean record. They will also be required to pass the federal and state background check.
The state of Oklahoma requires its nursing assistants to have an active license before they can proceed in working in a nursing facility. If you already have a license, then all you have to do to apply for reciprocity. You will need to provide document to prove your training as well as other legal documents.
This city is the state capital of Oklahoma. It is also the county seat of Oklahoma County. This city is also called simply by its initial letters- OKC. It is also called The 405 and he Big Friendly. With a total population of 579,999 during the last census, they are the 31st most populous city in the country. OKC has a population density of 923/sq mile. The total area of the city is estimated to be 621.2 sq miles, where 14.4 square miles of it is water. Major highways that are accessible to get to this city include Interstates 240, 40, 44, 35, and 235.
Health care providers whose services you can avail in the city area include St. Anthony Behavioral Medicine Geriatric Diagnostic Center, STD Test Express, Spine Surgery Inc., Oklahoma Surgicare, Hunt Michael Doctor of Osteopathi, Oklahoma City Clinic, Physician Manpower Training Commission, Spine Health Center, Windsor Park Medical Clinic, Concentra Medical Centers, and many more. photo attribution: ufv