The schools currently offering nursing assistant training in Norman, Oklahoma are listed here in detail. Future students who want more information should speak with a school representative. All facilities shown below meet state requirements for license training.
Moore Norman Technology
4701 12th Ave NW.,
Norman, OK 73069
(405) 364-5763
Norman Veterans Center
1776 South Robinson,
Norman, OK 73071
(405) 360-5600
The opportunities for CNAs in Oklahoma are still increasing. If you want to take advantage on this, then now is the perfect time for you to train and become a nursing assistant. According to the OBRA of 1987, all nursing assistant candidates must be certified and registered in a Nurse Aide Registry to work as one.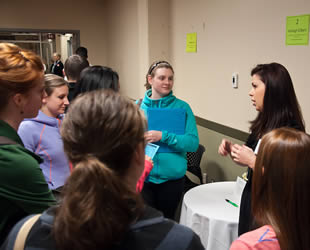 There are two ways to get into the Oklahoma Nurse Aide Registry. The first one is by applying for reciprocity. This route is only available to certified nursing assistants who are registered in another state and wish to transfer and work in Oklahoma. When applying, the nursing assistant must submit a copy of his certification as a nursing assistant and a proof of his completion of training. All applicants must also have an active status on the registry that they are listed in. All applicants are also required to pass the federal background check. It is important that the nursing assistant must not have any records of abuse or neglect in order to be approved.  A copy of the reciprocity application forms can be downloaded at http://www.ok.gov/health2/documents/HRDS-NAR%20Reciprocity%20Application%20ODH%20735.pdf.
The second way to get into the NAR is by passing the long term care aide competency exam. The exam consists of a written/oral knowledge test and a skills evaluation. Candidates are given a maximum of 90 minutes to answer the 72 items. As for the skills exam, a maximum of 35 minutes is given to perform all 5 nursing procedures. You can see the complete list of the nursing procedures that may come out of the exam in the candidate handbook, which you can download by going to: http://www.hdmaster.com/testing/cnatesting/oklahoma/okformpages/okforms/OKCandidateHandbook.pdf.
If you pass all the tests, your results will be forwarded to the OSDH. Once received, the Department will then enter your name on the Registry. You can expect your CNA card to be sent to your address within a few days after your name is added to the Registry. Your certification will only be valid for 24 months. Its expiration date will fall on the same date that you were entered. To renew your license, you will have to fill-out and submit the recertification form and the affidavit of residence. You must also have worked for at least 8 hours as a paid nursing assistant to be eligible for renewal.
The state of Oklahoma allows nurse aides that come from other states to apply for reciprocity. When applying, their licenses should still be active and that they must have a good relationship with the state that they come from. This is also offered to those that have finished a nursing related course.
Norman is the county seat of Cleveland Count. You can find this city about 20 miles south from downtown Oklahoma City. The city is also called as the "City of Festivals". With a total population of 110,925 during the 2010 census, they are considered as the 3rd most populous city in the state of Oklahoma. They have a total area of 189.5 sq miles, where 12.5 square miles of it is water, and a population density of 540.6/sq miles. Major highways that are serving the city are Interstate 35 and U.S. Highway 77.
The Norman Regional Health System is the main health care provider in the city. Other health care providers that you can avail include Orthopaedic & Sports Medicine Center Norman PC, Healthcare Innovations Private Service, Prohealth Physician Inc., Integris Family Care Clinics – Urgent Care, Anderson Foot & Ankle Clinic, Health for Friends Inc., Transition House Inc., and many more. photo attribution: ufv