The CNA Classes in New Orleans, Louisiana that are shown here have all been approved by the LA Nurse Aide Registry and qualify you to take the license exams upon completion. To receive more information about training schedules, tuition cost, and certification requirements, please call one of the school programs listed below.
Cameron College
2740 Canal Street,
New Orleans, LA 70119
(504) 821-5881
http://www.cameroncollege.com/
Delgado Community College
501 City Park Ave.,
New Orleans, LA 70119
(504) 671-5000
http://www.dcc.edu/campus/cp/
There is currently a great demand for nursing assistants in the state of Louisiana. The completion of a CNA training program is mandatory for all aspiring nursing aides who want to become certified. It is important that before you take care of any patient, you should know how to properly do so. To ensure this, you should only receive education and training from a state-approved training program. These programs are required by the state to offer at least 80 hours of training. These hours will be divided into 40 hours of clinical duties and 40 hours of classes.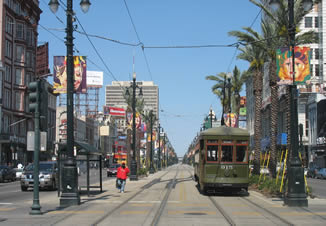 The first part of their training curriculum will be all about Communication and Interpersonal skills. You will learn the different expectations of a CNA, proper ways to talk to patients, as well as documentation principles and procedures. Other topics for your training will include safety and emergency procedures, mental health and social service needs, personal care, and the basic nursing services. There are two books that the state approves and suggest that you should be using when studying as a nursing assistant. These books include "How to Be a Nurse Assistant, 4th Edition" by Margaret Casey-Mederios, RN & Kathleen Masucci, RN, and "Successful Nursing Assistant Care, 2nd Edition" by Diana L. Dugan, RN. Any of these suggested books will be very useful to you.
You need to pass the state and federal criminal background check and the mandatory physical exam in order to determine if you are fit to work as a nurse aide.  After finishing the training course, and meeting all requirements, you will be eligible to take the state competency exam and gain the certification if you are able to pass. Once you gain certification and are entered in the state's nurse aide registry you are eligible to be hired. For those who have taken the exams and want to check their status in the online registry you can do at: www.labenfa.com. For further information and help directing you to additional information about certification in LA you can contact Shirley Smith, at (225) 342-5779.
New Orleans is a part of Orleans Parish. It is situated in the southeastern part of the state. It is straddled in the Mississippi River. You can find this city bordered by St. Tammany, St. Bernard, and Plaquemines. The city was name after Philippe d'Orléans, who was a Duke in France. It is sometimes as "The Crescent City", "The Big Easy", and "The City That Care Forgot". According to the census of 2010, their total population was around 343,829 people. It has a total area of 350.2 sq miles, where almost half of it is water. Its last estimated population density is around 1,965/sq mile.
The Ochsner Health System is the biggest employer in the city, with over 10,000 employees. Other health care centers that can be found in the area are Fresenius Medical Care, Galvez Doctors Clinic, Adams Plant Health Care, New Orleans Health Care Center, Mecca Medical Health Care Services, Select Health Services, St Luke's Medical Center, Lower Ninth Ward Health Clinic, and many more.