The CNA classes in Las Vegas, Nevada that are approved by the state are shown to you in detail below. Schools shown have been recognized by the state. If you have any questions about their certification classes, program requirements, class schedules, or tuition costs, please contact the number provided and talk with a school coordinator.
College of Southern Nevada
6375 W. Charleston Blvd.—Nursing
Las Vegas, NV 89146
(702) 651-5690
http://www.csn.edu/
A Progressive Healthcare Training Center
222 S. Rainbow Blvd., #218
Las Vegas, NV 89145
(702) 489-8999
http://www.aphtc.com/
Purrfect Nursing Services
1702 Western Ave., Ste. G & H
Las Vegas, NV 89102
(702) 385-3853
http://www.purrfectnursingservices.com/
Royal Allied Health Institute
3620 N. Rancho Dr., #111
Las Vegas, NV 89130
(702) 750-2266
SE Career & Technical Academy
5710 Mountain Vista
Las Vegas, NV 89120
(702) 799-7500
http://www.ccsd.net/
(Offered to high school students only)
East Career Technical Academy
6705 Vegas Valley Dr.
Las Vegas, NV 89142
(702) 799-8888
http://www.easttechtitans.com/
(Offered to high school students only)
There are two ways for you to become a nursing assistant in the state of Nevada. One option is to apply for Interstate endorsement while the other is to apply after passing the license exams. Regardless of which method you choose, you must be able to pass the background checks for criminal records in order to work in the state as a nursing assistant. To expedite your application you will need to submit a Fingerprint Card to the state.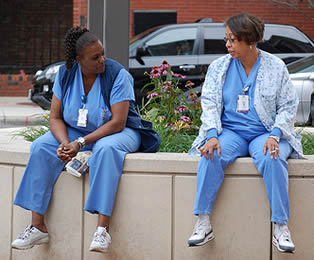 Before you are allowed to take the license exams, you must be able to complete a state-approved training program. These programs should at least offer 8-13 weeks of training, which should already include the necessary course work.During your course you will complete the required 75 hours of mandatory theory instruction and 16 hours of clinical skills work. During the clinical practice part of your course you will get to use common health care tasks and perform them in a real life setting similar to that found in a nursing home.
Some of the CNA skills you will learn to perform are: range of motion exercises, use of transfer belt, feeding/nourishment, communication & interpersonal skills, infection control, taking vital signs, grooming, safety & emergency procedures, dressing patients, transporting patients, bathing, catheter care, and denture/oral care.
After the training, there will be a final examination to receive certification. Exams consist of a skills demonstration and a written multiple choice test. When you pass both parts you will receive your license and be added to the state registry. You can contact the Board of Nursing to inquire about your application at (888) 590-6726.
When applying through endorsement, you must have an Endorsement form from every state that you have held a certification/license. Each state may have their own set of requirements for requesting the forms. You should contact them to ask them. You can find the contact numbers of the different Registries at http://nevadanursingboard.org/wp-content/uploads/2012/03/CNAstatenurseaideregistrydirectory.pdf.  When you apply, your license should still be valid.
This city is the county seat of Clark County. With a total population of 583,756 it is considered to be the most populous city in the state of Nevada. It also ranks 28th in the entire country. This city is most known for its major resorts, gambling, and shopping. It has earned the name Sin City. Las Vegas has a total area of 135.8 sq miles and a population density of 4,298.1/sq mile.
Health care centers and providers that can be found in this city include Vegas On-Call Urgent Care Doctors, Hotel Doctors, Sauter Timothy MD, Vista Medical Associates, A to Z Women's Center, The Nevada Clinic, Good Night Pediatrics, HMC Medical Center, and many more. photo attribution: timefortea3