The CNA Classes in Jacksonville, Florida that are open as of the making of this post are shown in the list below. Call the phone numbers for the training facilities listed below to get more details about program requirements, tuition fees, and class schedules.
Careercom School of Business
5564 Norwood Avenue
Jacksonville, FL 32208
(904) 766-6010
A. Philip Randolph Health Academy
1157 Golfair Blvd.,
Jacksonville, FL 32209
(904) 924-3011
Affordable Training D/B/A of Faye T Evans and Assoc., Inc.
23 Jackson Avenue North,
Jacksonville, Florida 32220
(904) 378-0102
Florida Medical Training Institute
8102 Blanding Blvd. Suite 4-6
Jacksonville, FL 32244
904-779-6000
All Saints Vocational School Nurse Aide Training Program
5888 Blanding Blvd.,
Jacksonville, Florida 32244
(904) 772-1220
Andrew Jackson High School CNA Program
3816 North Main Street,
Jacksonville, FL 32206
(904) 630-6950
Concorde Career Institute
7960 Arlington Expressway, Suite 120,
Jacksonville, Florida 32211
(904) 725-0525
First Coast Nurse Assistant Program
7723 Jasper Avenue,
Jacksonville, FL 32211
(904) 725-8044
Flagler Career Institute CNA Training Program
3225 University Blvd. South,
Jacksonville, FL 32216
(904) 721-1622
Florida Coast Career Tech
4501 Capper Road, Room C 215,
Jacksonville, Florida 32218
(904) 766-6524
HCR Training Center at Regents Park
7130 Southside Blvd.,
Jacksonville, FL 32256
(904) 642-7300
Jones Colleg Nursing Assistant Program
1195 Edgewood Avenue South,
Jacksonville, FL 32205
(904) 743-1122
Opis Management Resources
2802 Parental Home Road,
Jacksonville, Florida 32216
(904) 721-0088
Rice Institute Nurse Aide Training Program
5430 Norwood Avenue,
Jacksonville, FL 32208
(904) 765-7300
Albert Z. Fleet Geriatric Training Center
11401 Old St. Augustine Road,
Jacksonville, FL 32258
(904) 260-1818
St. Vincent's School of Healthcare Assistants
1800 Barrs Street, # 4904,
Jacksonville, FL 32204
Southern Career College
8711 Lone Star Road
Jacksonville, FL 32211
904-724-2229
Rose Training Institute, Inc
101 Century 21 Drive Suite 111
Jacksonville, FL 32216
904-722-0082
University of North Florida
4567 St. John Bluff Road,
Jacksonville, Florida 32224
(904) 730-3718
The most important steps in becoming a nursing assistant are the completion of a state-approved CNA course, passing the background checks, and taking the license exams. The training course and the background checks are both requirements to take the license exams. You cannot work in Florida if you do not have a nurse aide license. Aside from those mentioned, the applicant must be at least 18 years old and a holder of a high school diploma or an equivalent degree to become a nursing assistant.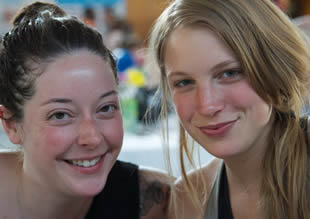 The examinations of this state are conducted by Prometric. Their exams are composed of a written exam and a skills evaluation. You must pass all the tests in order to receive your license. You will receive a notice along with your certification 14 days after taking the license exams. The release of the results will depend if you have completely submitted all the required documents during your application. The submission of the transcript of records is one of the common factors that prolong the release of the results.
If you are a current holder of a CNA license issued from a different state, you will no longer be required to take the license exams in Florida. You can apply for reciprocity by submitting a copy of your certification, the results of your exams, as well as the results for the criminal background checks. For more information about receiving your certification or training requirements you can contact the Florida Nursing Assistant Registry by calling (850) 245-4125.
This city is the county seat of Duval County. It is considered as the largest city in the state in both by population and by land area. It is a part of the Greater Jacksonville Metropolitan Area. This city is bordered by other places like Georgia, Miami, St. John's River, and several beaches. It was named after the 17 President, Andrew Jackson. According to the latest census, their total population was around 821,784. It has a total land area of 885 sq miles, and has a population density of 1,061.6/sq mile.
Health centers that you can find in the city include Firstcoast MD, Healthcare Supply Solutions, Mental Health Resource Center, Advanced Healthcare Centers, New Horizons Healthcare, Genesis Healthcare, Travel Clinic Jacksonville, and many more. photo attribution: rocketboom