The state approved CNA classes in the city of Indianapolis, Indiana that are currently enrolling students are shown on this page. Each of these schools are approved by the ISDH registry. For more information, please call to speak with a school coordinator.
American Red Cross
Nurse Assistant Training Program
1518 East Washington Street
Indianapolis IN 46201
317-653-1524
RESQ Health and Safety Training
6845 Madison Avenue, Suite 1,
Indianapolis, IN 46227
(317) 786-7260
http://www.resqtraining.com
Miller's Senior Living Community
8400 Clearvista Place,
Indianapolis, IN 46256
(317) 845-0464
http://www.millersseniorliving.com/
Nurse Aide Training Center, Inc.
1815 North Meridian Street, Suite 300,
Indianapolis, IN 46202
(317) 927-7359
Primeway Institute
3737 North Meridian Street, # 508,
Indianapolis, IN 46208
(317) 923-8000
Pro-Vision Training Services
6100 North Keystone Avenue, #448,
Indianapolis, IN 46220
(317) 545-1125
Telos Institute International
2820 North Meridian Street,
Indianapolis, IN 46208
(317) 923-7301
http://telos.edu/
Walker Career Center
9651 East 21st Street,
Indianapolis, IN 46229
(317) 532-6150
http://wcc.warren.k12.in.us/
Area 31 Career Center
Ben Davis High School,
Indianapolis, IN 46214
(317) 243-5524
http://www.wayne.k12.in.us/area31/
CNA Institute of Indiana
3901 West 86th Street, Suite 397,
Indianapolis, IN 46268
(317) 872-2245
http://www.cnaindiana.com/
Day Spring Career Institute
6255 Coffman Road,
Indianapolis, IN 46268
(317) 640-9725
Golden Living Training Center
8460 Bearing Drive, Suite 300,
Indianapolis, IN 46268
(317) 872-8811
http://www.goldenlivingcenters.com
Indiana Home Health Career Center
6213 La Paz Trail,
Indianapolis, IN 46268
(317) 610-3255
http://www.indianahealthcareertraining.com/
Ivy Tech Community College Health Services
9301 East 59th Street,
Indianapolis, IN 46216
(317) 921-4800
http://www.ivytech.edu/indianapolis/
J. Everett Light Career Center
1901 East 86th Street,
Indianapolis, IN 46240
(317) 259-5265
http://www.jelcc.com/
Mckenzie Career Center
7250 East 75th Street,
Indianapolis, IN 46256
(317) 576-6420
Nursing Now, LLC
6378 West 34th Street,
Indianapolis, IN 46224
(317) 293-4930
Vocational College of America
117 South Ridgeview Drive,
Indianapolis, IN 46219
(317) 352-7000
The completion of a nursing assistant training program is one of the best ways for you to enter the medical field. Compared to other courses that you can choose from, it does not take that long to become a nursing assistant nor does it cost that must. Many of the training programs in the state can be completed in a matter of 2 to 6 months to complete. You can find that the programs found in the state are offered by different institutions such as colleges and healthcare centers. Nursing assistant training programs must have at least 30 hours of health care practice lectures and 75 hours of clinical skills experience. During your class you will practice many of the frequently used procedures used during the job. Some common tasks are: range of motion exercises, feeding/nourishment, transporting residents, catheter care, housekeeping, infection control, safety procedures, measuring vitals (blood pressure, pulse, temperature, respiration),  equipment recording/maintenance, positioning, First Aide, CPR, and Heimlich Maneuver.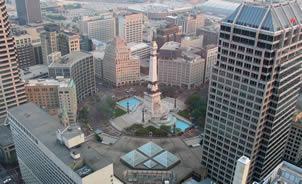 After your training, the next step for you to do is to complete the application form and send it along with the paperwork to the board. You will then have to wait for their approval before you can take the final tests. The license exams for this state are being handled by the Ivy Tech Community College. You can contact them to learn more about testing by calling 317-917-5948 or visit http://www.ivytech.edu/cna/eligibility/trainingcourse.html. Taking the exams is an important step since the state does not allow any nursing assistant to work if his/her name is not in the state's Registry. Applicants will need to compelte both the written and skills portions of the test in order to pass. You will also need to arrive to the exam 15 minutes early and have a valid driver's license or state issued ID. Once you pass and are added to the nurse aide registry, you must maintain that status if you want to continue to work. Keep in mind that the CNA licenses issued by the state must be renewed every 2 years. You will need to renew your license every 2 years with at least 8 hours of work in the occupation.
This city is the state capital of Indiana. It is also the county seat of Marion County. It is sometimes called as The Circle City, Crossroads of America, Indy, or The Racing Capital of the World. With a total population of 829,718 people during the 2010 census they are considered as the 12 largest city in the entire country. It has a total area of approximately 372 sq miles, where 6.9 sq miles of it is water. Its population density is estimated to be 2,273/sq mile.
Examples of health care centers that are found in the city are Oliver Family Healthcare, Westview Hospital, Gallahue Mental Health Services, Community Health Network Behavioral Care Services, Face Low Cost Spay Neuter Clinic, and Indy South after Hours Clinics, and Eagle dale Healthcare Clinic.