The CNA Classes in Greenville, South Carolina that are available for enrollment are all shown on this page. These programs have all been approved by the state of South Carolina. For more information about enrolling in their certified nursing assistant classes, please call the school using the phone number below.
Donaldson Career Center
100 Vocational Drive
Greenville, SC  29605
864-355-4650
Enoree Career & Technology Center
108 Scalybark Road
Greenville, SC  29617
864-294-4343
Golden Strip Career Center
1120 E Butler Road
Greenville, SC  29607
864-355-1065
Greenville Technical College, Continuing Education
PO Box 5616
Greenville, SC  29606
864-250-8405
(Multiple classes are being offered)
Ignite Healthcare Institute
1326 Miller Road
Greenville, SC  29607
864-458-3590
To work as a nurse aide in South Carolina, you will have to get your name entered on the Nurse Aide Registry. If you have never been certified as a nurse aide before, then your only option is to challenge the evaluation test.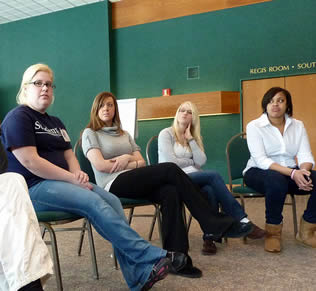 The state's Department of Health and Human Services has authorized Pearson VUE to develop, score, and report the results of the exam. Pearson VUE will be working in cooperation with the NACES in the administration of the exams.  The evaluation exam consists of a multiple-choice knowledge test, which if offered in written and oral form, and a clinical skills evaluation.
To get into the NAR, you will need to pass both parts of the evaluation exam. You will only be given a maximum of three attempts to pass all the tests. If you fail, you will have to reapply for the exam and retake the part that you failed in. If you fail after the third attempt, you will no longer be allowed to apply unless you undergo retraining. To know more about eh evaluation exam, please download a copy of the CNA Candidate Handbook from http://www.asisvcs.com/publications/pdf/074100.pdf.
To apply for the exams, you must first become eligible. There are different ways to become eligible to apply, but the best one is to complete a state-approved training program. These 100-hour programs consist of classroom lectures and a minimum of 40 clinical hours. Even as a student, you will already get the change to handle patients as a nurse aide. While still under training, you will not be allowed to perform any procedures that have not yet been taught in your class or perform without the supervision of your CNA instructor.
To be accepted into a program, you must be at least 18 years old, speak and read English, possess a high school diploma or a GED, is physically capable of taking care of patients, have completed your immunizations, pass the criminal background check, and get a negative on the required TB tests. You can find these programs offered by vocational colleges, nursing homes, hospitals, private facilities, technical colleges, and other training institutions.
This is the county seat of Greenville County. It is considered as the 6th largest city in the entire state. It is also a part of the Greenville-Mauldin-Easley Metropolitan Statistical Area. According to the 2010 census, their total population was around 636,986. It has a total area of approximately 26.1 sq miles and a population density of 2,148.1/sq mile. Major roads serving the city include Interstate 85, Interstate 185 and Interstate 385.
The major health system that are used in the city are the Bon Secours St. Francis Health System, and Greenville Hospital System University Medical Center. These two systems involves hospitals like  ST. FRANCIS, St. Francis Outpatient Center, Upstate Surgery Center, Greenville Memorial Medical Center, North Greenville Long Term Acute Care Hospital and ER, Hillcrest Hospital, Patewood Memorial Hospital, and the newest Greer Memorial Hospital. photo attribution: create-learning