All of the current CNA Classes located in Baltimore, Maryland that are open for enrollment are listed below. If you have any inquires about program curriculum, the cost of instruction, class schedules or certification requirements, do not hesitate to call the number for one of the training centers below. If you know of a program not listed here contact us for it to be included.
Baltimore City Community College
710 E. Lombard Street
Baltimore, MD  21202-4047
(410) 986-3200
http://www.bccc.edu/site/default.aspx?PageID=1
Community College of Baltimore County Health and Allied Health
7200 Sollers Point Road
Baltimore, MD 21222
(443) 840-3700
http://ccbcmd.edu/allied_health/
Coppin State University
2500 West North Avenue
Baltimore, MD 21216
(410) 951-3000
http://www.coppin.edu/
Sojourner-Douglass College
200 N. Central Avenue
Baltimore, MD 21202
(410) 276-0306
http://www.sdc.edu/
Baltimore City Public Schools Edmondson/Westside
501 Athol Avenue
Baltimore, MD 21229
(410) 396-0685
http://edmondsonwestsidehighschool.com/
Milford Mill Academy
3800 Washington Avenue
Baltimore, MD 21244
(410) 887-0660
www.milfordmillhs.bcps.org/
REACH! Partnership Middle-High School
6820 Fait Avenue
Baltimore, MD  21224
(443) 642-2297
Sollers Point/SE Tech HS
325 Sollers Point Road
Baltimore, MD 21222
(410) 887-7075
American Red Cross
4700 Mt. Hope Drive
Baltimore MD 21215-3231
(410) 624-2000
http://www.redcross.org/md/baltimore
Caroline Center
900 Somerset Street
Baltimore, MD 21202
(410) 563-1303
http://caroline-center.org/
Gandhi's Institute of Health Foundation
6666 Security Blvd, Suites 1&2
Baltimore, MD 21207
(410) 281-1845
http://www.gandhihealthcare.com/
Health Focus, Inc.
4900 Bel Air Road
Baltimore, MD  21206
(410) 488-6600
http://www.healthfocusinc.org/en/
Maryland Center for Arts & Technology
2901 Druid Park Drive, Suite 303,
Baltimore, MD  21215
(410) 728-0679
http://www.mhec.state.md.us/utilities/pcs_search/pcs_school.asp?ID=331
Stein Academy
600 Reisterstown Road, Suite 416
Baltimore, MD 21208
(410) 602-0666
http://www.steinacademy.com/
St. Ambrose Outreach Center
3445 Park Heights Avenue
Baltimore, MD 21215
(410) 225-0870
Genesis Eldercare-Cromwell Center
8710 Emge Road
Baltimore, MD 21234
(410) 661-5955
http://www.genesishcc.com/Cromwell
Genesis Eldercare-La Plata
One Magnolia Drive
Baltimore, MD 21237
(410) 391-2600
http://www.genesishcc.com/
Johns Hopkins Bayview Geriatric Center
5500 Hopkins Bayview Circle
Baltimore, MD 21224
(410) 550-0756
http://www.hopkinsbayview.org/
Levindale Hebrew Geriatric Center
2434 W. Belvedere Avenue
Baltimore, MD 21215
(410) 601-6740
http://www.lifebridgehealth.org/Levindale/Levindale2.aspx
St. Elizabeth Rehabilitation and Nursing Center
3320 Benson Avenue
Baltimore, Maryland 21227
(410) 646-6556
http://www.catholiccharities-md.org/
Maryland General Hospital-TCU CNA Training Program
827 Linden Avenue
Baltimore, MD 21201
(410) 225-8000
http://www.marylandgeneral.org/
Baltimore City Health Department
620 N. Caroline Street
Baltimore, MD 21202
(410) 396-4966
http://baltimorehealth.org/
Good Samaritan Hospital Renal Dialysis
5601 Loch Raven Boulevard
Baltimore, MD 21239-2995
(410) 532-8000
http://www.goodsam-md.org/body.cfm?id=178
For you to become a certified nursing assistant in the state of Maryland, you must first complete one of the state approved training programs. Training must consist of at least a total of 100 hours' worth of clinical practice and classroom instruction. Most programs will last from two to six months. After finishing the training program, you will then be eligible to apply to take the license examination. Applying for the Nurse Aide Registry is the only way for you to be allowed to work as a CNA in the state of Maryland. When you apply, you must be able to provide your Social Security Number or your Federal Tax Identification Number. This is mandatory when you apply. Failing to do so will result in the rejection of your application. When you apply, you must already have completed a state-certified training program and pass the evaluation exams.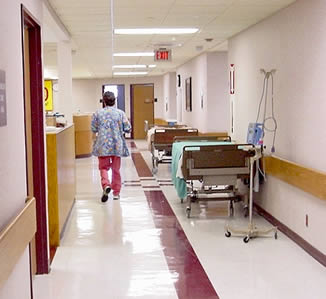 Once you are approved, you will need to maintain this status in order to remain eligible to work as a nursing assistant. Your license as a nursing assistant will only be valid for two years. It will expire on the 28th day of your birth month. The expiration date for your license is also the same for your advance certifications. For nurse aides that come from other states, if they wish to work in Maryland, then they will need to apply for reciprocity. They will need to apply to the out-of-state nurse aide registry. This registry is still under the state's Board of Nursing. When they apply, they must have a valid license and a good relationship with their state. They will also need to pass the federal and state background checks.
Maryland also offers advanced certifications for those who have been licensed as a certified nurse aide. Some of the advanced programs are Dialysis Technician, Geriatric Nursing Assistant, or a Medicine Aide. You can call the MD Board of Nursing for further details about receiving an advanced degree at 410-585-1990.
The City of Baltimore is an independent city that is not a part of Baltimore County. It is the largest city in the State of Maryland. It was founded back in 1729 and was named after Cecilius Calvert, 2nd Baron Baltimore. The city is also known as Charm City, Mobtown, and City of Firsts. According to the census of 2010, their total population was at 620,961 people. It has a total area of 92.052 sq miles and a population density of 7,671.5/sq mile.
Baltimore is the home of the famous Johns Hopkins Hospital. Other health care centers that you can find in the area include Baltimore Behavioral Health, Business Risk Management, Trinity Health Care Services Inc., Good Samaritan Hospital, Greater Baltimore Crisis Pregnancy Center, Baltimore Medical Group, Greenspring Medical Association, and many more.