CNA Classes in Alexandria, Virginia that are shown on this page are all the certified nursing assistant classes that you can enroll in as of the moment. For more information about signing up for a certification training program in Alexandria, please call the school phone number provided for you below.
American Red Cross Nurse Assistant Training
123 N. Alfred Street,
Alexandria, VA 22314
(703) 299-2506
Salvation Academy
5520 Cherokee Avenue, Suite 220,
Alexandria, VA 22312
(571) 405-6465 or (703) 763-1115
Classic Nurses Academy
85 South Bragg Street
Alexandria, VA 22312
(703) 658-9575
Global Health Nurse Training Services
25 South Quaker Lane
Alexandria, VA  22314
(703) 212-7410
Maralex Allied Health Educational Services
4810 Beauregard Street
Alexandria, VA 22312
Medical Learning Center
1840 Wilson Boulevard
Alexandria, VA 22201
New Era Nursing Services
5999 Stevenson Avenue
Alexandria, VA 22304
(571) 312-5983
Virginia School of Nursing and Medical Institute
4810 Beauregard Street
Alexandria, VA 22312
(703) 642-1533
There are a lot of people who are thinking about venturing into the field of medicine. One of the growing careers in the field is called Nursing Assistant. Nursing Assistants are found in many health care setting helping licensed nurses provide nursing care to patients. To ensure that the patients receive only proper care, all aspiring nursing assistants are required to complete a state-approved CNA program and take the National Nurse Aide Assessment Program Examination.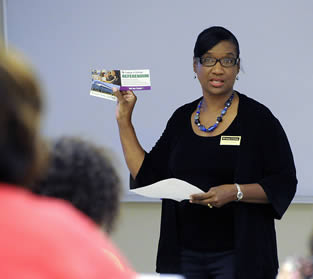 CNA training in Virginia consist of both lectures and clinical practice. The state's Board of Nursing monitors all programs to make sure that the students receive good quality education and training. Approved training programs are required to last at least 75 hours. It can take you in an average of 4 months to complete a training program in Virginia.
Once you complete your training you will be allowed to apply for the NNAAP exam, which is conducted by Pearson VUE. Taking the NNAAP exam is the final step in becoming a nursing assistant. Your instructor will provide you with the necessary application form. If not then you can download one from this link: http://www.dhp.virginia.gov/Nursing/nursing_forms.htm#CNA.
Your training will only be valid for a year after completing a program. You must pass all the tests within that time to get certified. Please make sure that you complete all necessary fields on the forms before sending them. Inaccurate and incomplete applications are not processed by Pearson VUE. You must also send the payment of $94 for the testing fee in the form of a money order, company check, or cashier's check.
The NNAAP exam is divided into two parts – the written/oral test and the skills evaluation exam. Both of these tests are given on the same day, so candidates are advised to plan their day accordingly. If a candidate is able to pass both tests, then his name will be forwarded to the Board of Nursing where it will then be entered into the Nurse Aide Registry.
Once a person's name is on the NAR, he or she will be allowed to work full-time as a certified nursing assistant in a state-approved health care facility. Names in the NAR will only remain there for 2 years. A person will lose his or her eligibility to work if his name is removed from the Registry. To keep one's name on the NAR, you must renew your certification every 2 years.  To make the renewal process much easier, Nurse aides can now go to www.license.dhp.virginia.gov and renew their certification online.
This city is an independent city that is in Commonwealth, Virginia. You can find this city very near to the country's capital city. It was founded back in 1749 and was known as Old Town. According to the census of 2010, their total population was around 139,966 people. It has a total area of approximately 15.4 sq mile, and has a population density of 9,208/sq mile.
Health care centers and providers that you can find in this area include Beauregard Medical Center, Abortion Alternatives, STD Test Express, National Association of Community Health Centers, Evening Day Medical Clinic At Seminary Road, 1st American Home Health Care Services Inc., Alexandria Neighborhood Health Service, and many more. photo attribution: codnewsroom