One can find the facilities offering certified nurse aide classes in Clinton, South Carolina listed below. These school have met the approval of the state and qualify students who finish the instruction to take the examination to become licensed to work. For more information about enrolling in training, class tuition costs, or certification requirements, just call the number below.
Clinton High School
800 N. Adair Street
Clinton, SC  29325
864-833-0817
NHC – Clinton
PO Box 727
Clinton, SC  29325
864-833-2550
In order to become a nursing assistant in South Carolina, one must first receive the proper training. By receiving the appropriate training, an aspiring nursing assistant can become eligible to apply for the National Nurse Aide Assessment Program examination. If the nursing assistant candidate is able to pass both the knowledge test and the skills evaluation, he will get his name entered in the state's Nurse Aide Registry. According to the law, only the individuals whose names are on the Registry will be allowed to work as a CNA in South Carolina.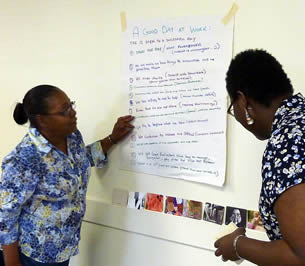 There are several different ways to become eligible. One of the best ways is to complete a state-approved 100-hour nursing assistant program. Because of the demand for this profession, there is now a lot of training facilities that are offering the training program. Those who completed a nursing education program or are still enrolled as students may also apply. Since this is a case-to-case basis, they will need to find out if they are eligible by contacting (803) 898-2587.
The SC Department of Health and Human Services has contracted Pearson VUE to assist in the conducting, scoring, and releasing of the results. They will be working in cooperation with NACES to conduct the exams at approved Regional Testing sites. To download a copy of the Nursing Assistant Candidate Handbook, please visit www.pearsonvue.com. This handbook contains detailed information about the NNAAP exams.
By passing the NNAAP exams within 3 attempts and within 2 years of completing the training program, the candidate will get his name entered on the Nurse Aide Registry. Pearson VUE will then send the new nursing assistant's CNA card and wallet ID card to his address within 10 business days. If you fail to receive the card within 30 days, please call Pearson VUE at (800) 475-8290.
Nurse aide certifications in this state are only valid for 24 months. To remain eligible to work as a nursing assistant, every nursing assistant must work for at least 8 hours while under the supervision of a registered nurse. If a worker fails to do this, he will not be allowed to renew his certification and it will expire. An expired certification can no longer be renewed. If he wishes to work as a CNA again, he will have to start from the beginning by enrolling in another training program and take the certification exam again.
The city of Clinton is  a part of Laurens County. It is also a part of the Greenville–Mauldin–Easley Metropolitan Statistical Area. This city was named after Henry Clinton Young, a lawyer from Laurens. According to the 2010 census, their total population at that time was around 8,490 people. It has a total area of approximately 9.1 square miles and a population density of 889.7/sq mile.
Health care centers that you can find in the area include Walgreens Home Medical, Trusted Hands, DDC- DNA Diagnostics Center, Diabetes Care Club, CPAP, Dr. Tom MacMillan, Health Related Personnel, Parrish Home Medical, Long's Home Medical Equipment, Medical Guardian, NHC HealthCare Of Clinton, and many more. photo attribution: create-learning