The schools offering nursing assistant classes in Clinton, North Carolina that are shown on this page are all recognized by the state and will allow students to take the license examination For more information about their training programs, certification requirements, classroom schedules, or tuition rates, just call the number below.
Sampson Community College
1801 Sunset Avenue
Clinton, NC 28328-3139
(910) 592-8081
http://www.sampsoncc.edu/
(Multiple classes are being offered)
As the number of elderly people in the population is rising, so is the demand for health care providers, especially the nurse aides. Nurse Aides work under the supervision of the nurses when taking care of the patients/clients when they are providing nursing or nursing-related care. You can always guarantee that the demand for healthcare providers will always be there in the coming years. The growth of the demand for nurse aides is believed to be on the rise until 2016.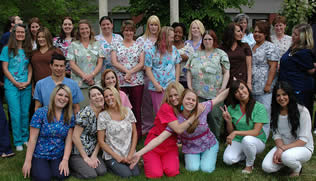 Before you handle any patients/clients, it is important that you receive the proper training by enrolling in a state-certified CNA program. An approved program will give you a minimum of 75 hours of training. You will be spending those hours in both classroom and clinical setting. You will learn different concepts such as human anatomy, communication skills, personal care, infection control, safety, emergency protocols, proper documentation, mental health and rehabilitation, and many more.
After you complete your training, you can work for a maximum of 4 months as a nurse aide while waiting to take your exam. The 4 months will start as soon as you complete your training. The competency exam in North Carolina is conducted by Pearson VUE. The exam consists of a written exam or an oral exam (70 multiple-choice questions) with a passing of 70%, and a skills evaluation (5 skills) that requires you to perform all skills satisfactorily to pass. If you do not pass all the tests, you will be given another 2 attempts to pass. Failing in the 3rd attempt will require you to undergo retraining before you can retake the exams.
CNA licenses are required to be renewed biannually. No individual is allowed to work as a nurse aid with an expired license. Renewal of a license before its expiration is also very important since expired licenses can no longer be renewed. To be eligible for renewal, you must be able to work for a minimum of 8 hours under the supervision of a registered nurse. You must also be paid for the nurse aide services that you provide. Volunteer work does not count as qualified work.
This city is the county seat of Sampson County. It was named after the American Revolution General Richard Clinton. The earliest settlers in the area came around the 1740s. As of the census of 2010, their total population was around 8,639 residents. It has a total area of about 7.75 sq miles and a population density of 1,114.7/sq miles.
Health care providers that you can find in the area include Progressive Healthcare & Counseling Services Inc., Clinton Urgent Care, Omni Visions Inc., Family First Support Center, Interim HealthCare, Skill Creations of Clinton, Howell Support Services, Adult Care Licensure, Duplin Sampson Group Homes Inc., A Brighter Future Health Care Services Inc., Goshen Medical Center, and many more. photo attribution: ufv