The health center nursing assistant training programs found in Chevy Chase, Maryland that is open for enrollment as of the making of this post is listed on this page. To learn more about license qualifications, curriculum requirements, and tuition fees, contact the number below.
US Renal Care
3 Bethesda Metro Center Suite B,005, Chevy Chase, MD 20814 – (301) 652-3434
http://www.usrenalcare.com/
(Also offers CNA-DT training programs)
Becoming a nursing assistant is one of the fastest ways for you to start your career in healthcare. You must first pass one of the CNA classes that are approved by the state of Maryland before you can become a nursing assistant. Often programs take anywhere from 2 to 6 months to complete. Current Maryland state requirements are that classes provide at least 100 hours of both clinical experience and classroom coursework.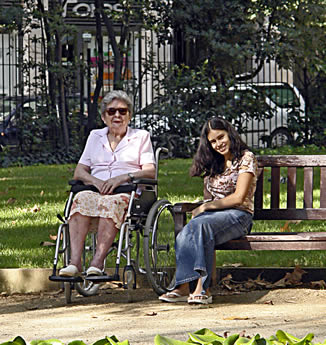 After getting your school transcripts you can then apply to take the license exam. The testing location is currently held at the Susquehanna Red Cross. Administration of the exams are conducted by the Maryland Geriatric Nursing Assistant Testing Service. You can contact them via their phone number at  866-257-6470 with any questions about how to qualify. Once you pass the license exam, your nurse aide license will be valid up to two years. You will need to renew it by paying a small fee (currently set at $40). The MD Board of Nursing can be contacted to learn more about requirements at 410-585-1990.
When you apply for the Registry, you must include your Social Security number or at least your Federal Tax ID number. This has been a mandatory requirement as of January 2012. Failing to submit at least one will result in the rejection of your application. Once your name is on the Registry, you will receive a certification/license from the Board of Nursing of the state and be allowed to work as a nursing assistant for up to two years. If you want to aim for higher degrees, there are also some advance degrees that you can add on top of your nursing assistant certification. These include GNA, Home Health Aide, Dialysis Technicians, and GMA. For more information, please visit the Maryland's Board of Nursing official site.
Chevy Chase is both a town and a census-designated place that is a part of Montgomery County. According to the 2000 census, their total population was at 9,381 people. The town has a total area of approximately 2.5 sq miles, where all of it is land. Its population density is estimated to be at 3,828.8/sq mile.
Examples of health care providers and centers that you can find in the area include Washingtonian Plastic Surgery, Chevy Chase Orthopedic Rehabilitation, Capital Healthcare Associates, Georgetown Pain Management LLC, Vein Clinic of America Inc., Professional Health, National Association of Osteopathic Foundations, Physician Associates, Create Expressive Arts Center, Smartherapy, STD Test Express, Matrix Rehabilitation of Chevy Chase, Invictus Healthcare Solutions LLC, Eating Disorders Foundation & Treatment Center, Chevy Chase Counseling, and Comprehensive Primary Care.