In the town of Chelan, Washington, you can find the following certified nursing assistant programs open for enrollment. Currently one must complete both the training and exams to be qualified to work long term in care centers in this state.
Chelan High School
P.O. Box 369,
Chelan, Washington 98816
(509) 682-4061
According to the Omnibus Budget Reconciliation Act, all aspiring nursing assistants must undergo proper training and get certified to work full-time as a CNA in any healthcare facility in the United States. Requiring these two will help guarantee that the clients/patients will receive quality care from their healthcare providers, especially when personal one on one care is needed.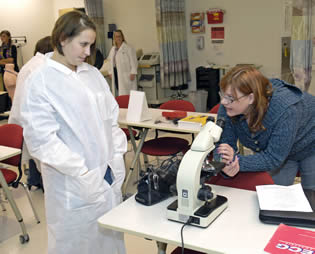 Where to get accredited training?
There are a variety of healthcare facilities and schools that are offering nursing assistant training. Examples of these facilities and schools include:
–    Hospitals
–    Nursing Homes
–    Community Colleges
–    Vocational Colleges
–    High Schools
–    Technical Schools
–    Red Cross Organization
–    Long-term Care Facilities
–    Government Organizations
–    Assisted Living Centers
General Requirements to get into a program:
•    Must be at least 16 years hold; those who are under 18 are required to submit a signed letter of approval from their parents/guardians.
•    English competency is a MUST since the majority of the clients/patients will be speaking the language.
•    Must be able to pass the National Criminal Background Checks
•    Must be physically healthy and free from communicable diseases such as TB
•    Must be able to read and write. Some facilities only accept persons who have a high school diploma or a GED certificate
What will you learn in a training program?
An approved training program must consist of at least 85 hours of training. These hours are divided into lectures and supervised clinical practice. Both theory and practical training and done simultaneously. During the entire training period, students will be handled by a CNA instructor.
Examples of the things that are taught in a program:
–    Basic Nursing Care
–    Personal Care
–    Patient Rights
–    Communication Skills
–    Mental Health
–    Safety and Emergency Care
–    Medical and Surgical Asepsis
–    Vital Signs
Nursing Assistant Certification Exam
After completing your training, the next step is to test all the things you have learned in the program. This certification exam consists of a written test and a skills evaluation exam. It will test your competence as a nursing assistant in both knowledge and skills. Candidates who have some problems with reading English can request for an oral exam instead. Candidates who pass both tests will gain entry into the state's Nurse Aide Registry and will be given a state certificate.
Chelan is situated in Chelan County. You can find it situated on the southeast end of Lake Chelan. This city is also included in the Wenatchee–East Wenatchee Metropolitan Statistical Area. According to the census of 2010, their total population was around 3,890 people. It has a total area of 3.9 sq miles, and has a population density of 933.9/sq mile.
Examples of health care centers and providers that are in the city include Behavioral Care Center At Lake, Lake Chelan Community Hospital, Hevly Kathy Arnp, North Cascades Family Chiropractic, Travers Michael D R MD, Clements Martin J MD, and Tagge Gordon MD. photo attribution: codnewsroom