The schools that are enrolling students in nursing assistant classes in Charlottesville, Virginia are listed here. If you have any questions about the certification training available in Charlottesville, feel free to call the school using the number provided for you below.
The Cedars
1242 Cedars Court
Charlottesville, VA 22903
(434) 295-8032
Charlottesville-Albemarle Technical Education Center
1000 East Rio Road
Charlottesville, VA 22901
(434) 973-4461
Piedmont Virginia Community College
501 College Drive
Charlottesville, VA 22902
(434) 977-3900
(Multiple classes are being offered)
Trinity Mission of Charlottesville
1150 Northwest Drive
Charlottesville, VA 22901
(434) 973-7933
Before you can work as a nursing aide in Virginia you need to get a CNA certification. The state has its own rules and regulations regarding the certification process. Knowing what these are will help your journey to become a certified nursing aide a lot easier.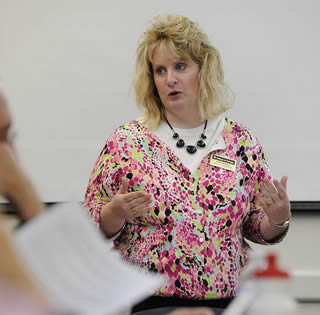 Step 1: Getting Proper Training
One of the great things about becoming a nursing aide is that there are different routes that you can take to become one. One of the most common routes taken to receive proper training is by enrolling in a CNA program that is approved by the state's BON.  Their training consists of 75 hours of classroom instructions and supervised practical training by a qualified clinical instructor. It can take somewhere from about 2 to 6 months to complete.
Completing an approved CNA program will make you eligible to apply for the NNAAP exam, which is the next step in the certification process.  One can also establish eligibility by enrolling or completing one semester of nursing school as a nursing student or graduate. Persons who completed a program in another state, but have not yet taken or passed the NNAAP exam, can also apply.
Step 2: Applying for the NNAAP Exam
The necessary application forms are normally provided by the instructors at the end of the training, but if you do not have one you can download and print a copy from this link: http://www.asisvcs.com/publications/pdf/075301.pdf. The application form will include detailed instructions on what to do and where to send the forms. Please make sure that you fill out the forms completely and accurately before sending them.
Step 3: Taking the NNAAP Exam
The NNAAP exam initially consists of a written test and a skills test. Candidates, during application, can request to take an oral exam instead of the written test if they prefer or have trouble reading English. During the exam candidates are given a maximum of 2 hours to answer all 70 multiple-choice questions. In the skills tests, candidates will be asked to demonstrate 5 randomly selected nursing procedures in front of an evaluator. Candidates must pass both tests in order to get certified.
After CNA Certification
Once a nursing aide is certified by the Board, he or she is allowed to work in a nursing facility as long as the certification remains valid. Unlike most states, Initial CNA certifications in Virginia are only valid for 1 year. After renewing one's certification, it will then become valid for 2 years. Holders must meet the required amount of working hours in order to qualify for renewal.  No nurse aide is allowed to continue working once his or her certification has expired.
This is an independent city that is in the Commonwealth of Virginia. It is literally surrounded by the county of Albemarle. It was named after Charlotte of Mecklenburg-Strelitz. Although separate from Albemarle County, it is still the county seat there. According to the census of 2010, their total population was around 43,475, and is contained in 10.3 sq miles, and has a population density of 4,220.9/sq mile.
The University of Virginia Medical Center, Martha Jefferson Hospital, and Pharmaceutical Research Association are three of the biggest employers of the city. Other health care clinics that you can find within Charlottesville are Albemarle Audiology, Prompt Care Medical Center, First Med At Pantops, STD Test Express, and many more. photo attribution: codnewsroom