The state tested nursing aide training programs that are listed below are the most up-to-date registry authorized education instruction found in Canton, Ohio as of the moment. If you have any questions, you can call the phone number provided below each program or call NATCEP at their number at (614) 752-8285.
Canton City Schools
305, McKinley Avenue Northwest,
Canton, OH 44702
(330) 438-2500
http://www.ccsdistrict.org/
Saint Luke Lutheran Community
200, Applegrove Street,
Northeast Canton, OH 44720
(330) 499-8341
http://www.stllc.org/
North Canton City Schools
525, 7th Street Northeast,
North Canton, OH 44720
(330) 497-5600
http://nccs.northcantonschools.org/info/contact
Absolute Health Services, Inc.
339, East Maple Street, Suite- 100,
North Canton, OH 44720
(330) 498-8200
http://www.abshealth.com/
If you are looking for a way to join the medical industry without going to college, then the best option for you is to become a certified nursing assistant. Nursing assistants in Ohio are officially known as state-tested nursing aides or STNA and not CNAs.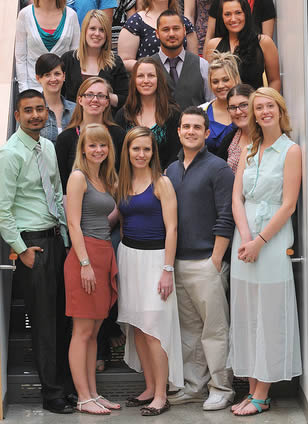 A nursing assistant works typically under a registered nurse and helps them out in taking care of the patient by providing nursing care that are delegated to them. These nursing procedures are often routine, simple, and do not involve any ongoing evaluation of the patient's current condition. Their task may range from the simple bed baths, taking vital signs, to assisting the patients with their daily tasks. If necessary, nursing aides will also be tasks with helping in in the performance of emergency procedures like CPR.
There are two ways for you to become a nursing assistant in Ohio. One is undergoing the necessary training and taking the license exams, while the other is directly applying for the Nurse Aide Registry by applying for reciprocity. An active status on the Nurse Aide Registry is a requirement for you to work long-term as a nursing assistant in the state.
Training programs are often offered by nursing homes, hospitals, and other training facilities. In order for you to graduate from a program, you must meet the 75-hour training requirement. It will take you approximately 5 to 8 weeks to complete your training. If you missed some important classes, you are given 60 days to finish what you lack. For those who have previous backgrounds in the Fundamentals of Nursing and want to refresh their knowledge, some facilities also offer refresher courses which only take 2 weeks to complete.
The license exam is designed to determine the competency of the nursing assistant trainee in taking care of the patients. This exam will test the trainee in both knowledge and skills. The trainee must pass both parts of the exam (written and clinical skills evaluation) in order to gain entry into the Registry. Every trainee is given 3 attempts to pass all the tests. After failing for the 3rd time, the trainee will be required to undergo retraining before being allowed to take the exam again.
Canton serves as the county seat of Stark County. You can find this city about 24 miles south of Akron and 60 miles south from Cleveland. It is located in northeastern Ohio and is known as the Hall of Fame City. The beginning of Canton can be traced back to 1805 as manufacturing center. It only became a city on 1854. As of 2011, the total population of the city had grown to an estimated 72,919 people. This city has a total area of 25.48 square miles, where only a small portion of it is water.
Since the decline of heavy manufacturing, the economy of this city has diversified, including its health industry. Now, you can find a great number of healthcare facilities in the area such as Mercy Medical Center, Gastroenterology & Hepatology Specialists Inc., Mental Health & Recovery Services, Medhelp Inc., Canton Community Clinic Inc., Crisis Intervention & Recovery, Bubanic Chiropractic, and Stark County Mental Health. photo attribution: ufv