Classes for nurse aides in Buena Vista, Virginia are all listed for you in detail below. Included in the list are all the state sanctioned training that is currently available in the city of Buena Vista.
Golden Living Center
3737 Catalpa Ave.
Buena Vista, VA 24416
(540) 261-7444
Are you looking for a stable job that has plenty of opportunities to advance? Do you genuinely want to help other people with their health and day-to-day activities? If you are, then you should think about starting a career in the health care industry. If you want a quick way to start a career in the field of health, then consider becoming a nursing aide. All you need to start working as one is a CNA certification.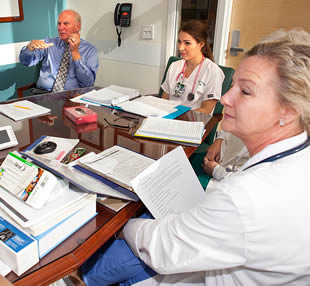 Virginia CNA Certification Process
The most common way of getting a certification is by passing the National Nurse Aide Assessment Program examination or NNAAP exam. The NNAAP exam is divided into two parts – a written/oral test and a skills evaluation exam. Aspiring candidates must pass both tests to get into the Nurse Aide Registry and get a certification.
Before one can take the NNAAP exam, you must first apply for it. One of the main requirements is the successful completion of a state-certified program. The state's Board of Nursing is responsible for certifying all nurse aide programs in Virginia. Therefore, you must only enroll in a program that is approved by them.
Approved training programs consist of 75 hours of lectures and supervised clinical practice. Most of them can be completed within 2 to 6 months of continuous training. If you choose a facility-based program, then you can complete your training in less than 4 months. The disadvantage in choosing a facility-based program is that you must get certified within 4 months from the start of your work.
Nursing students are welcomed to apply for the NNAAP exam if they wish to pursue a career as nursing aides. To be qualified, they must have completed at least 40 hours of clinical duty while they were still enrolled in a nursing school. Nursing graduates are also allowed to apply for the NNAAP exam.
Advancing Your Career Opportunities
Since CNA programs only take about 6 months to complete, most people try to take advantage of the short time by enrolling in another program to get a different certification. CMA certifications go great with nursing aide certification. If you get a CMA certification, then you will be allowed to give patients certain medications while under the supervision of a registered nurse.
Like the nursing aide certification process, you must receive the proper training before you can apply for their certification exam. The good news is that their certification exam consists only of a multiple-choice knowledge test. You can get more information about their certification exam by following this link: http://www.dhp.virginia.gov/Forms/nursing/MedAide/Bulletin.pdf.
This is a independent city that is situated within Rockbridge County. According to the census of 2010, their total population had reached up to a total of 6,650 people. It has a total area of approximately 6.8 sq miles, where all of it is land. Its population density is said to be 929.5/sq mile.
Health care providers that you can find within the city include Dubit Scott B MD, Bruner Lia P MD, Cunningham Michael J MD, Hamilton Thomas F MD, Buena Vista Medical Associates Inc., and Ailsworth Melody DO. photo attribution: codnewsroom