Schools that are offering instruction programs in Brookfield, Illinois and are currently open for enrollment are listed below. The nursing assistant classes below have the information that you need to get certified in the state of Illinois.
The British Home
8700 West 31st Street,
Brookfield, IL 60513
(708) 485-0135
You cannot work in the state of Illinois as a nursing assistant if you were not able to take or pass the state's CNA competency exams. There are a number of requirements that you must comply with before you are allowed to take the exams. Among them, two of the most important are finishing a state-approved nursing assistant program and passing the federal and state background checks for criminal records. Without the two of them, you will not be allowed to proceed and take the exams. When you undergo training you will need to complete at least 40 hours of instruction that includes skills practice in a health care center environment.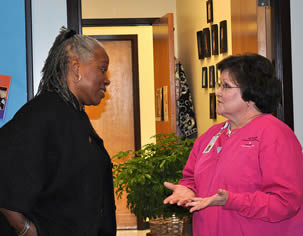 The license exams are composed of a written and a skills evaluation exam. You will need to pass both of them to get your name entered in the state's online registry. You and every applicant will be given two chances to retake the exams if you fail. If you fail for the third time, then you must undergo retraining if you want to have another chance of taking the exams. Once you take the class and pass the exams, your license will not expire if you have worked anytime within two consecutive years. Upon completion of the exams you will be places on the state registry which enables you to work as a nurse aide within Illinois. Aside from enrolling in a nursing assistant program to become eligible for the exams, medics that were trained by the military are also eligible to apply. When they apply, they will just need to provide the appropriate forms along with proof of their education and training. They will also need to have at least 40 hours of experiences as a medic.
This village is a part of Cook County. It is another one of the suburbs of Chicago. You can find this village a few miles west from downtown Chicago. The area was first settled in 1889. The man responsible for the creation of this village was a real estate investor named Samuel Eberly Gross. According to the 2000 census, their total population was around 19,085 people. The village has a total area of approximately 3.1 sq miles, and a population density of 6,200/sq mile.
Health care providers that are in the village include MD Anesthesia, Kuchipudi V R MD, Brookfield Family Clinic, The Family Doctors, Mario Maretta DC, MD Orthotic & Prosthetic Lab Inc., Melvani Ramesh P MD, DR Kathleen M Schafer, Physicians for Natural Health, and many more. photo attribution: usdagov