This page offers all of the schools found in Bloomindale, Illinois for nursing assistant classes that are open for enrollment as of the making of this post. Call the training facility phone number for certification requirements, enrollment cost, class schedules, and program curriculum.
Marklund Home Program
164 South Prairie Ave., Bloomingdale, IL 60108
(630) 529-2871
https://www.marklund.org/
It is not that hard to become a nursing assistant in Illinois if you know what the requirements are and which of them you should comply with first. Among the different requirements, the first thing that you should do is to complete a state-approved training program. It is important that you know the Fundamentals of Nursing as well as learn the basic health care skills. You will have the option to either enroll in a nursing course or a nurse aide training program. One benefit of choosing a nursing assistant program is that it is less costly compared to other programs. Classes are required to be at least forty hours in length and offer practical skills experience in a nursing facility environment.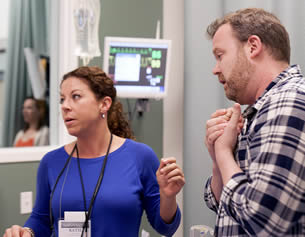 The completion of a state-approved program will make you eligible to apply for the license exams. Once finished you can submit your school transcripts and an application to schedule a time to take the test. Taking on this exam is a needed step since the state does not allow a nursing assistant to work in a healthcare facility if his or her name is not in the state's Nurse Aide Registry. In order to get your name entered, you have to pass all the exams. After receiving your license it will never expire so long as you have a job within two consecutive years. RNs and LPNs from this state are allowed to work as a nursing assistant even if their name is not on the Nurse Aide Registry. This of course is provided that they still have an active status in their own registry. This privilege does not however extend to RNs from other states.
This is a village that is located in DuPage County. You can find Bloomingdale only a few miles west from Chicago. This village is one of the earliest villages in the county that has been settled. The first family to come here were the Meacham family, who came around 1823.  According to the 2010 census, their total population was around 22,018. It has a total area of 6.8 sq miles, where all of it is land. Its population density is estimated to be around 3,200/sq mile.
Health care providers and facilities that you can find serving this city include Lexington Health Care Center of Bloomingdale, Female Healthcare Associates, Whole Health Network LLC, Glen Oaks Psychological Services, Glendale Heights Healthcare, Emerging & Associates Consultants for Health Care & Business, Clinic Healthcare, Legacy Health Care, and many more. photo attribution: codnewsroom