Nurse aide training programs that are found in schools in the area in and around Blackwell, Oklahoma are included on this page. If you want to find out more about their certification instruction, please call the number shown to you below. Courses shown are OSDH recognized and meet state standards for licensing.
Blackwell Nursing Home
1315 South 11th Street,
Blackwell, OK 74631
(580) 363-1624
(Other classes are also available)
Hillcrest Manor
1210 South 6th St.,
Blackwell, OK 74631
(580) 363-3244
A license in nursing assistance is one of the requirements before one can start your work in the state of Oklahoma. Most will choose to get a certification by passing the nursing assistant license exams after completing a CNA training program. Applicants must also pass the background check to see if they have any criminal records.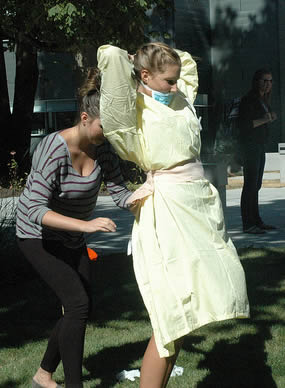 A Nurse Aide is any individual who gives, for compensation, nursing or nursing-related care and services to residents in a nursing home, a residential care home, an assisted living center, or other long-term care facility, and is not a licensed health care professional. This may also include a resident/patient's own home. There are six classes of nurse aide certifications, these are:
•     Long Term Care Aide
•    Developmentally Disabled Direct Care Aides
•    Residential Care Aide
•    HHA or Home Health Aide
•    Adult Day Care Aide
•    CMA or Certified Medication Aide.
According to the federal law, all nurse aides must be certified and registered in a state's Nurse Aide Registry. The NAR of each state is responsible for the review and approval/disapproval of CNA training program curriculum; review and approve/disapprove a nurse aide training program; review and approve or disapprove competency testing; develop and maintain the NA registry; maintain an abuse registry; certify nurse aides; provide nurse aide public training and education; create rules, policies,  and implement programs.
There are two ways of gaining entry into the Oklahoma State Nurse Aide Registry and become a nurse aide. One of the ways is by getting the proper education and training, and passing the competency evaluation exams afterwards. Nurse Aide candidates must only enroll in training programs that are approved by the state. Local or foreign nursing students or graduates may immediately apply to take the exams by simply filling out the application form and provide proof of training and education. Foreign applicants are required to submit proof of legal entry into the U.S. and a copy of their SS card along with the other normal requirements to take the test.
The second way to get into the NAR is by applying for reciprocity. The process of reciprocity is only available for individuals who are already certified nurse aides that are registered in a different state. When they apply, they will need to submit, along with the completed application form (http://www.ok.gov/health2/documents/HRDS-NAR%20Reciprocity%20Application%20ODH%20735.pdf), a copy of their certification, proof of their training, the corresponding fees, and the results of the federal background check. All the documents must be sent to:
Nurse Aide Registry
PO Box 268816
Oklahoma City, Oklahoma 73126-8816
(405) 271-4085
This city can be found in Kay County. You can find this city located where the Interstate 11 and U.S. Highway 177 meet with Interstate 35. The community was founded back on September 16, 1893 by A. J. Blackwell. As of the 2010 census, their total population was around 7,092 people. They have a total area of approximately 5.5 sq miles, where all of it is land. The population density was estimated to be 1,407.3/sq mile.
The Integris-Blackwell Regional hospital is one of the main hospitals that are serving the city. Other health care providers that you can find in the area include Laird Gordon DO, Shuart Jeffrey R MD, Blackwell Family Medicine, Ghormley L W Phys, Chaparala Sukumar Phys, and many more. photo attribution: ufv