Those in the area of Big Stone Gap, Virginia can find the nurse aide training  currently available for enrollment listed on this page. Students who enroll will receive state approved course instruction and be allowed to test for their certification after completion.
Heritage Hall Health Care
2045 Valley View Drive
Big Stone Gap, VA 24219
(276) 523-3000
Mountain Empire Community College
3441 Mountain Empire Road
Big Stone Gap, VA 24219
(276) 523-2400
The demand for nursing assistants in the United States has suddenly increased because of the increased number of elderly in the population. This demand has caused a lot of people to think about getting a career in the field of health as CNAs. To protect the patients from improper and poor care, all aspiring nursing assistant candidates are now required to complete a state-approved training program and take the state's certification exam.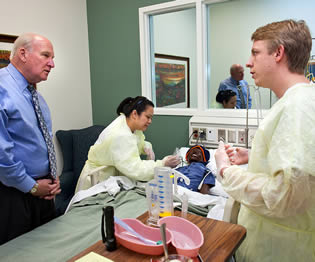 CNA Training
Getting the needed training is very easy since there are now a lot of institutions and schools that are now offering this required instruction. Before you enroll in a program you must make sure that it is approved by the state's Board of Nursing.  Only those who are able to complete a state-approved nurse aide program will be allowed to apply for the certification exam.
Nursing assistant training consists of both classroom and practical training. All approved programs are required to offer their students at least 75 hours of training. Most of the programs in the state can be completed within 2-6 months, but if you enroll in a facility-based program, then you can complete it within less than 4 months. The only problem with enrolling in one is that you must get certified within 4 months from the start of the program to continue working in their facility.
Applying for the Certification Exam
The certification exam in Virginia is handled by the Nurse Aide Competency Evaluation Services or NACES with the help of Pearson VUE. The application forms are usually given to the students by their clinical instructor at the end of their training. The application packets will contain the necessary information on what to do and send.
The Certification Exam
The certification exam consists of a written (or oral) knowledge test and a clinical skills evaluation. Both the tests are conducted on the same day at Regional Testing Center. All the questions on the knowledge test are multiple-choice. Candidates are given 2 hours to answer all 70 items.
As for the skills exam, candidates will be required to perform 5 randomly selected nursing skills in front of a CNA instructor. They will only be given 30 minutes to do all skills. Candidates must perform all tasks satisfactorily in order to pass this test.
Nurse Aide Registry and CNA Certification
If you pass all the tests, then your name will be entered into the Nurse Aide Registry. Once your name is there, you will then receive a certification from the BON. You can show that certificate to your employers when you go applying for work. Employers are required to verify your certification upon application. They must only hire those who have a valid certification.
This is a town that is a part of Wise County. According to the census of 2010, their total population had reached up to a total of 5,643 people. It has a total area of approximately 4.9 sq miles and has a population density of 996/sq mile. This town was formerly known as "Mineral City" and "Three Forks".
Health care facilities that you can find in the area include Innovative Health Care Inc., Ob Gyn Clinic PC, Across The Tracks Healthcare, Intrepid USA Home Health Services Inc., Independence House, Intrepid USA Home Health Services Inc., Wise County Behavioral Health, Holston Polly Summit, and many more. photo attribution: codnewsroom