You can locate the certified nursing assistant schools in the city of Berne, Indiana that are currently open for enrollment on this page. If you know of other course listings that are approved by the state registry and located in this city, you can send them to us and we will add them.
Swiss Village Inc.
1350 West Main Street,
Berne, IN 46711
(260) 589-3173
The number of people who want to become a nursing assistant in this state is continuing to rise. One reason for this is the high demand for this profession not only in this state but in other states as well. This type of profession is best suited for those who want to help other people and want a job with a lot of social interaction.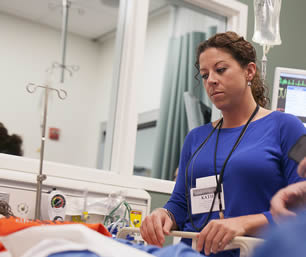 The first step in becoming a nursing assistant is to find a CNA training program to enroll in. Then you are looking for one, you should keep in mind to select a program that is approved by the state. By completing a sate approved program you can become eligible to apply for the license exams. Classroom instruction is required to consist of 30 hours of classroom lectures and coursework and 75 hours of clinical experience training.
Taking the license exams is the next step to become certified to work. Generally your school administrator can assist you in scheduling a time to take the exams after you have completed your program. The license exams for this state are composed of two parts, a written exam and a skills evaluation. In order to get your name entered in the state's Nurse Aide Registry you will need to pass all the tests. There are also some occasions where the written exams are replaced with an oral one. For more information, you can contact the Department of Health at (317) 233-1325.
The city belongs to both Monroe and Wabash townships. The two townships can be found in Adams County. This city is situated only a few miles south from Fort Wayne. The area that Berne is located was settled around 1852 by devout Mennonite immigrants. They named this city after the capital of Switzerland. According to the census of 2010, their total population was around 3,999 people. The population density of the city was estimated to be 2,306/sq mile. Berne has a total area of approximately 2.08 sq miles, where all of it is land.
Health care centers and providers that you can find in the area include Swiss City Medical Center, Berne Outpatient Convenience, Liechty Barbara A, Swiss City Medical Center, Judge Robert E MD Abfp, Lehman Kent A MD, Berne Out Patient Clinic, and Take Care Clinic at select Walgreens. photo attribution: codnewsroom