Listed here are the schools in Bellingham, Washington that teach how to become a nursing assistant. Classes shown are open for enrollment and registry authorized. Students will gain knowledge about patient care through course lectures and skills training.
St. Francis Health Care
3121 Squalicum Parkway,
Bellingham, WA 98225
(Classes are offered only when additional staffs are needed)
Alderwood Park Convalescent Center
2726 Alderwood Ave.,
Bellingham, WA 98225
(360) 733-2322
Bellingham Health Care and Rehabilitation Services
1200 Birchwood Ave.,
Bellingham, WA 98225
(360) 734-9295
Evergreen North Cascades Health and Rehabilitation
4680 Cordata Parkway,
Bellingham, WA 98226
(360) 398-1966
Whatcom Community College
237 West Kellogg Rd.,
Bellingham, WA 98226
(360) 676-2170
Bellingham Technical College
3028 Lindberg Ave.,
Bellingham, WA 98225
(360) 752-7000
CNAs or certified nursing aides can be found working in hospitals, nursing homes, rehabilitation clinics, long-term care facilities, assisted living centers, and other healthcare settings. They are currently one of the most in demand healthcare providers in the country. If you want to learn how to become one, then we suggest that you keep on reading.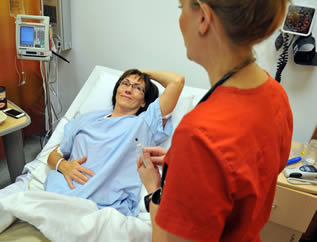 How to Become a Nursing Aide in Washington
Each state has its own requirements to become a nursing assistant. Like all others, the process in this state begins by enrolling in a state-approved nursing aide course. These courses are taught and offered by different healthcare institutions and schools across the state. You won't have any problem looking for one that suite you.
Approved training courses are required by the state to offer no less than 35 hours of theory and 50 hours of supervised practical training. Students in the course are divided into smaller groups and are handled by a qualified CNA instructor. Both theory and practical training are taught simultaneously. Before students are allowed to handle any patient, they are first taught the following concepts:
–    Medical and Surgical Asepsis
–    Communication and Interpersonal Skills
–    Safety and Emergency Care
–    Basic Nursing Skills
–    Roles and Responsibilities of Nursing Aides
–    Patient Rights
–    Respecting Patient Independence
After completing your training, the next step is to apply for the NNAAP exam. The NNAAP exam was designed to test the competency of aspiring nursing aides in terms of both knowledge and skills. It is the final challenge of becoming a nursing aide. Your instructor will provide you with the application packet at the end of your training. A copy can also be downloaded by visiting www.pearsonvue.com.  Applications must be complete and sent to:
NACES Plus Foundation
Washington NACEP
8501 N. MoPac Expressway, Suite 400
Austin, TX  78759
Telephone : 1  (800) 842-4562
fax: (512) 452-3842
The National Nurse Aide Assessment Program Examination
The exam is divided into two parts – a written/oral test and a skills evaluation exam. Candidates are given 2 hours to answer all multiple-choice questions and 25 minutes to perform all 5 randomly selected nursing procedures. Only candidates who pass both tests will be allowed into the NAR and be allowed to apply for a CNA Certification from the Washington State Department of Health.
Questions?
If you want to know more about the how to become a certified nursing aide, feel free to contact any of these numbers:
DSHS OBRA-NAR – (360) 725-2597
DOH Nursing Assistant Certification – (360) 236-4700
Pearson VUE – (800) 274-4097
This city is the county seat of Whatcom County. It is considered as the 12th largest city in the state. According to the census of 2010, their total population had reached up to 80,885 residents. It has the total area of approximately 28 sq miles, where 6.1 square miles of it is water. Its population density is estimated to be 2,620/sq mile.
The Peace Health St. Joseph Medical Center and Sterling Health Plans are two of the largest employers in the city, where PeaceHealth St. Joseph Medical Center is considered as the largest. Other health care centers that you can find in Bellingham include Bellingham Weekend Walk-in Clinic, Care Medical Group/ExpressCare, Mt Shuksan Family Medicine, Planned Parenthood, and many more. photo attribution: ufv