All the certified nurse aide training programs that are available for enrollment in Basin, Wyoming are found on this page. You can find out more about each program by calling the contact number that's provided below.
Wyoming Retirement Center
890 Highway 20 South,
Basin, WY 82410
(307) 568-2431
Fax: (307) 568-3887
Email: richard.dunkley@wyo.gov
NWC Outreach-Basin
919 West B
Basin, WY
Contact Information:
Northwest College
231 West 6th,
Powell, WY 82435
(307) 754-6479
Fax: (307) 754-6175
Email: marnee.crawford@northwestcollege.edu
Getting a CNA certification is Wyoming is a good way to start a career in the field of health. Nursing assistants are entry-level professionals with very high demands and numerous opportunities for career advancement. You can learn the basics of nursing care without spending too much time and money through this way.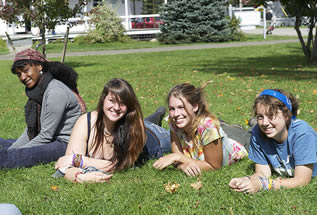 To be eligible for a certification, candidates must enroll and complete a state-certified program. The state's Board of Nursing is certifying and monitoring all training programs in the state of Wyoming. Candidates must only enroll in approved programs to ensure that they'll be allowed to take the exams once they complete their training, as well as receive standard nursing assistant training and education.
CNA training in this state consists of a minimum of 105 hours of instructions. The hours are divided into 75 hours of classroom lectures and 30 hours of supervised clinical practice. Since the state allows a candidate to work as an noncertified nursing assistant while undergoing training, those who are enrolled in a facility-based training program may have a slight edge as they would get more experience. Most of the training programs offered in Wyoming can be completed within 3 to 4 months of continuous training.
Candidates can submit their application forms for the Nurse Aide Registry once they complete their training. Application forms can be downloaded from this web link: https://nursing-online.state.wy.us/Resources/CNA%20Exam%20App%2010-25-2013.pdf. There is an application fee of $60, which must be paid in the form of a money order, cashier's check, or credit card.
Before one's name is placed on the Nurse Aide Registry, every aspiring candidate must first take the CNA exams. The exams for this state are conducted by the American Red Cross with the help of Pearson VUE. The processing and scheduling of the exams are handled by the ARC; all payments and application forms for the exams must be sent to them at:
American Red Cross
Wyoming NNAAP
1804 North 6th Street,
Harrisburg, PA 17102
The exams consist of a written (or oral) exam and a manual skills demonstration. Candidates are required to pass both exams within one year after completing their training. Every candidate is given a maximum of five attempts within the year to pass. When retaking the exams, they will only be required to pass the part that they failed.
If a candidate manages to pass both knowledge and skills test, Pearson VUE will notify the Nurse Aide Registry that he or she has passed. The Registry will then send a notice to the address provided on the application forms stating the certification status of the applicant. You can check your status as a certified nursing assistant by going to: https://cnaregistry.health.wyo.gov/.
Once your name is on the Registry it will be your responsibility to keep your record updated. CNA certifications are required to be renewed from October 1 to December of every even year. Nursing assistants need to show evidence of employment on the job for at least 16 hours and proof of completing 24 hours of in-service training to qualify for recertification.
Basin is a good place to work as a certified nursing assistant. The town is currently the county seat of Big Horn County with a total population of 1,292 people, where 27.2% are people whose ages are in between 45-65 years old; 24.4% of the total population is around 65 years old and above. With that number of elderly, you can be sure that there's plenty of work to go around.
Examples of the places where you can work as a CNA within the city area include the Wyoming Retirement Center, Gottsche Therapy Clinic, Midway Medical Clinic, and the Bonnie Bluejacket Nursing Home. If you're unsatisfied with the numbers, just remember that your certification allows you to work in any federally certified nursing facility in Wyoming. photo attribution: sterlingcollege