The CNA training classes available for enrollment in Bangor, Maine are listed for you below. Contact one of the schools from the list to learn more about how you can become licensed to work in care facilities throughout the state.
Penobscot Job Corp
1375 Union Street
Bangor, ME 04401
(207) 990-3000
http://penobscot.jobcorps.gov/home.aspx
Eastern Maine Community College (EMCC)
354 Hogan Road,
Bangor, ME 04401
(207) 262-3215
http://www.emcc.edu/
Bangor Adult Education
885 Broadway,
Bangor, ME 04401
(207) 992-5522
http://bangor.maineadulted.org/
This is an excellent time for you to enter the medical field as a nursing aide. With the increase in the demand for health care professionals, health care institutions are looking to nurse aides to help ease the work load. While on the job nurse aides get great experience in the medical industry while under the supervision of a registered nurse. This type of profession is not only in demand in Maine, but in other states as well. Because of the increasing demand, there is always employment ready for the fresh graduates. In order to work in the state as a nursing assistant for more than 4 months, you will need to get your name entered in the state's Nurse Aide Registry and receive your license. The only way for it to be entered there is if you complete a training course and are able to take and pass all the tests in the CNA license exams.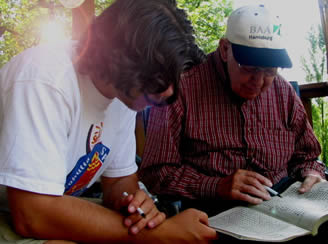 CNA classes are required in Maine to consist of at least  180 hours of total instruction. This is broken down in to a minimum requirement of 20 hours of lab work, 70 hours of clinical skills practicing, and 90 hours of classroom coursework and lectures. During you skills practice you will receive hands-on training using the procedures of the occupation. Some of the skills you will learn include: infection control, safety procedures, transporting patients, feeding/nourishment, bathing/grooming, catheter care, measuring and recording vital signs (respiration, temperature, pulse, blood pressure), communication skills, First Aid, CPR, Heimlich, body movement & ambulation, dealing with emergency situations and more.
Completion of the nurse aide competency test is the final step to receive certification and be allowed to work full time in long-term care facilities. Once you pass the exams you are placed on the registry for 24 months. You will then need to submit a renewal form for each 24 month period. You can contact the Licensing and Regulatory Services by calling their toll free help line at 1-800-791-4080 for more information. Once it is entered there, you must maintain this status in order to continue working in as a nursing home. Only those whose names are on the registry will be allowed to work as CNAs. Nursing assistants from other states are also able to work in Maine if they apply for reciprocity. When they apply, they will need to meet a different set of requirements such as a valid license and be able to show proof of their training.
This city is the county seat of Penobscot County. You can find this city a few miles from Penobscot Bay. It is connected with Brewere, who is its neighboring city. Bangor is a primary city of the Bangor, Maine Metropolitan Statistical Area. It is also known as the "Queen City of the East". With a total population of 35,473 during the 2010 census, they are currently the 3rd most populous city in the state. The population density of the city was estimated to be around 939/sq mile. The total area of this city is approximately 34.7 sq miles, where almost all of it is land.
Health care providers that are located in the city include Quimby Lucy G Psychologist, Fellowship Health Resources, Eastern Maine Medical Center, Summer Street Health Center, Stillwater Health Care, Allies Inc., Penobscot Community Health Care, Behavioral Health Center, Phoenix Mental Health Services LLC, Columbia Psychology Associates, and many more.